WOW! What a mouthful! As Jennifer's Cakes is currently based in Spain for numerous fabulous beach weddings c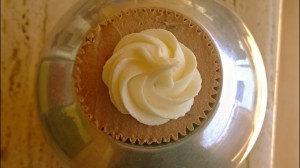 oming up, on my 'one' day off, I ventured into the quaint Spanish town of Estepona where I found the most amazing inspiration for some beautiful cupcakes which I thought I would share with all my blog readers. During my short stay in Estepona, I decided to have an ice cream as the weather is just so hot here and you guessed it, the flavour was 'Rum and Raisin', what a delicious flavour combination, so delicious in fact that I decided to turn it into two types of alcoholic cupcake, one being 'Vanilla Rum and Raisin' and the other being 'Chocolate Rum and Raisin', which blog post will follow shortly.
Here is the recipe for my Estepona inspired Chocolate cupcakes with Vanilla Rum and Raisin Butter Cream.
This is what you will need for these deliciously naughty alcoholic cupcakes;
Chocolate cupcakes;
–          200g Caster Sugar
–          200g Butter at room temperature
–          120g Plain Flour
–          1 ½ tsp Baking Powder
–          Pinch of Salt
–          80g Cocoa Powder
–          4 Free-range Eggs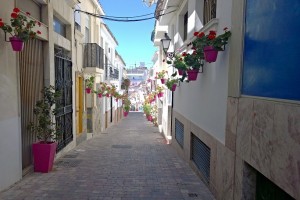 Rum Syrup;
–          5 tbsp Dark Rum
–          50g Sugar
–          50 ml Boiling Water
Vanilla Rum and Raisin Butter Cream;
–          500g Icing Sugar
–          250g Unsalted Butter (at room temperature)
–          1 ½ tsp Pure Vanilla Extract
–          Pinch of Salt
–          6 tbsp Dark Rum
–          Hand full of raisins
Method;
Set your oven to 180C and line a cupcake baking tray with paper cupcake liners or muffin liners. In a clean, dry bowl add your butter and beat well u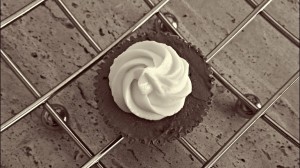 ntil it has become fully aerated. The butter will turn from a yellow colour to a pale cream colour, this step should take around 5 minutes. Once this stage is complete, add in your caster sugar and beat again until all the sugar has been incorporated and the texture turns to light and fluffy. Now, add in the eggs one at a time ensuring that all the egg has been taken up by the mixture before adding in the next egg. In a separate bowl, add in all of your 'dry' ingredients including; flour, cocoa powder, salt and baking powder and stir with a spoon. Carefully, pour in your dry ingredients 1/3 at a time into your wet, egg mixture. Once all the ingredients have been added together, fold the mixture using a spatula. Spoon your mixture into your cupcake or muffin liners until they are 2/3 full, this will leave enough space for the cupcakes to rise in the oven without over spill. Place your uncooked cupcakes into the oven and leave for 20 to 25 minutes. Once your cupcakes are ready, they should spring back to the touch or you will be able to insert a skewer into the centre of each of your cupcakes and remove it clean, without any cupcake batter clinging to it. Once your cupcakes are ready, remove them from the oven and leave to cool in their baking tray for 10 minutes. Once this 10 minutes is up, remove them from the baking tin and leave to cool fully on a wire cooling rack. Whilst they are cooling, this leaves ample time to make your rum syrup and your vanilla rum and raisin butter cream.
To make your syrup takes a couple of very easy steps. Boil some water in the kettle and pour your sugar and rum into a mug and stir, then add your 50ml of boiling water and stir continuously until all of the sugar has been dissolved. Taste your syrup and if the flavour of rum is not strong enough for your taste, then you can add more. If the rum is too strong for your liking, then you can always add some more water, however if you do add more water, then make sure you add more sugar at the same time as you do not want to be pouring water over your cupcakes.
Taking a skewer, go over to your still warm chocolate cupcakes and pierce holes into your cupcake with your skewer. Using a spoon or a brush, brush on your rum syrup over the top of your cupcakes until they look moist and delicious. Do not overdo it on the syrup front as you do not want your cupcakes to disintegrate as you bite into them.
Now, leave your cupcakes again to cool fully and in a bowl, beat your butter until the same colour change appears. This is a very important stage not only in the baking department but also when making your butter cream icing. Once this stage is complete and the colour has changed after 5 minutes, add in your icing sugar a spoon at a time and do not use an electric mixer. This would be extremely detrimental to your butter cream but also personally as not only will the icing sugar end up all over you and your kitchen, but it will not even end up in your butter cream which is where it needs to be! Once all of the icing sugar has been added to the beaten butter, now you can use your electric mixer and mix in your rum, salt and vanilla extract. Once this has all been incorporated, chop up the raisins into pieces. (If you are thinking of piping your butter cream onto your cupcakes, ensure that the pieces of raisins are small enough to fit through your piping nozzle). Mix in the raisins and pipe onto your cool chocolate cupcakes. If you are in hot weather (which I currently am) store in the fridge until your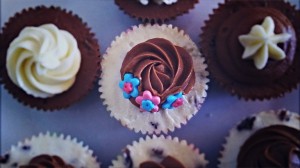 cupcakes are ready to serve.
Hay presto you have my alcoholic chocolate cupcakes with vanilla rum and raisin butter cream. Hope you have enjoyed this post and if you are a chocoholic and thinking that this recipe should be made fully with chocolate, then look out for tomorrows post as it will be 'Alcoholic Chocolate Cupcakes with CHOCOLATE Rum and Raisin Butter Cream'.
Ciao for now xx