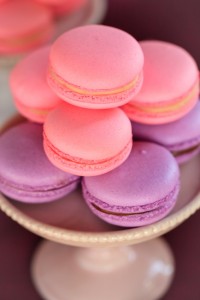 So many of our regular readers have asked us to upload a fool proof recipe for our famous macaroons so I thought I would listen and upload this post …
Macaroons can be extremely tricky and some amateur bakers believe that it is just too difficult, so I have decided to put an end to all this nonsense and show you my easy recipe for all of you out there looking to make the perfect macaroons.
What you will need for the shells;
–          70g Caster Sugar
–          4 large egg whites or 5 small egg whites
–          Pinch of salt
–          230g Icing sugar
–          120g finely ground almonds or almond meal
–          Gel food colouring (I usually use pale pinks and violets)
What you will need for the chocolate orange ganache;
–          200g White chocolate broken into piece
–          Orange gel food colouring
–          100ml Double cream
–          1 ½ tsp Orange extract
Method;
Set the oven to 150C and place your egg whites and caster sugar into a bowl and whisk. I like to use an electric whisker. Take as long as you need with this process as it is the most important stage. This stage will decide the texture of your macaroons so ensure you whisk properly and for however long. Whisking usually takes me around 5 minutes until the mixture is smooth, glossy and forms soft peaks. Once this has formed, I usually split the mixture into two and add the pink food colouring to one batch and the violet to the other batch. Mix the colouring in well until you achieve the desired colour and without any marbling effect. Using a sieve, sift in your ground almonds, salt and icing sugar. Using a plastic spatula, fold the almond mixture in fully. We use the folding technic at this stage as you do not want to reduce the amount of air in your mixture, if you over mix and reduce the air in the mix, this will cause your macaroons to become flat, which is not a good look. Now you are ready to pipe your mixture onto a baking tray. I usually use a piece of parchment paper on top of my baking tray and secure this to the baking tray by piping a little of the macaroon mixture onto the 4 corners of the parchment paper, sticking it down to the baking tray. Once your parchment has been fastened securely, now is the time to pipe your mixture evenly onto the paper. I like mine to be around 4cm in diameter and well spread out on the paper to avoid any merging disasters. Once you have piped your coloured macaroon mixture, rap the tray down on an even surface, this is to ensure that the thickness of the dollops are even and that there are no oversized air bubbles. Leave the uncooked disks to the side for 10 minutes before placing them in the oven, this helps the disks to form a skin which in turn prevents cracking during the baking stage. Once 10 mins is up, place the macaroons in the oven for 20 mins. The way of checking if they are ready is by testing one by pealing it off the parchment paper. If it comes off easily then they are ready. Once removed from the oven leave them to cool fully and then peel them of the tray. Set aside to cool further. Now it is time for the white chocolate orange ganache.
Heat the double cream in a small saucepan until it is just about boiling, then remove the pan from the heat and whisk in the white chocolate pieces, orange gel food colouring and the orange extract. Once everything has been fully incorporated and the mixture is smooth in consistency transfer the cream and chocolate orange mix to a small bowl and place in the fridge. As the mixture cools down it will begin to thicken. Once completely cold, it is time to pipe the ganache into the centre of each macaroon shell. I like to pipe a small blob in the middle and squish the two shells to make a neat layer and to avoid any over spill.
There you have your fool proof macaroon recipe, I hope this helped and if you have any questions or are just looking for some advice please do not hesitate to contact me.
See you later!
Jennifer