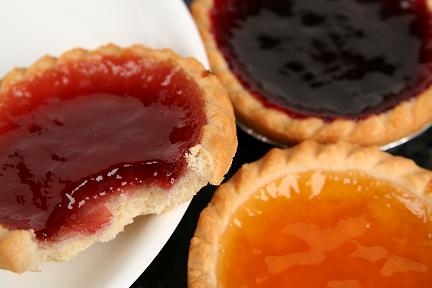 There is nothing in the baking world which could possibly beat the old but classic Jam Tart. I am not sure what sparked an interest in reviving this old classic. Maybe it was the extremely short summer that we experienced this year or maybe it was an advert for Jam which I just watched on TV, either way it has caught my attention and I wanted to share my classic recipe with all my blog readers out there.
This recipe is so simple, that it is perfect for a baking day with the children or grandchildren as well as being something quick and easy to make for a dessert one night during the week, after work.
What you will need for the short crust pastry:
100g unsalted or salted butter.
Pinch of salt
3 tbsp water
250g plain flour
If you don't have the time or just can't be bothered to make the pastry, then you can buy 250g of short crust pastry ready-made.
For the filling:
Fruit jam which can be any flavor you would like or even Lemon curd, would taste divine in these tart cases.
Finally, add a little butter on the side for greasing the baking tray.
Pre-heat the oven to 180 Degrees Celsius. Lightly grease the tart baking tray and leave to one side.
For the people who are making the pastry from scratch, here is the method:
Place the butter, flour and pinch of salt into a large bowl. There is no need to use an electric whisk as all you need are your finger tips. Using your finger tips massage the butter, flour and salt together until the mixture begins to look like breadcrumbs. Ensure that you work fast as you do NOT want the mixture to become warm.
Add one teaspoon of water to the breadcrumb looking mixture and mix using a cold spoon or knife until the dough becomes well combined. Then add one teaspoon of water at a  time, mixing well between each addition. If the mixture is a bit dry, then add in one extra spoon of water at a time until the dough becomes just right in texture. Once the mixture is ready, wrap in cling film and leave to chill in the fridge for a minimum of 15 to 20 minutes.
.
Once the dough is cooled through, unwrap and roll out on a surface covered in flour, to prevent sticking. Cut using pastry cutters and roll out to a thickness of 0.5 cm thickness, which is perfect for a thin but slightly chewy base for your tarts. After you cut each individual tart using a tart pastry cutter, then gently place into the greased holes of your tart baking tray and press lightly. Once they have been pressed and there are no air spaces under the pastry, add the jam or lemon curd to the centre of each tart. DO NOT over fill with the filling as the heat from the oven will cause the jam or curd to liquidize and spread out. If there is too much in each pasrty case, then the jam will spill over and end up burning.
Place the tart baking tray in the oven and bake for 15 minutes until the pastry has turn a delicious golden brown in colour. Once cooked, take out of the oven and leave to rest for 15 minutes on a wire rack.
This is by far the hardest waiting time EVER as they look and smell soooo good but please do not eat or touch them until they have cooled down! Hot jam can be as dangerous as boiling oil so please refine even though it is extremely difficult.
After they have cooled, take out and enjoy!!
Any questions, please give me a call or drop me an email!
Jen xxx