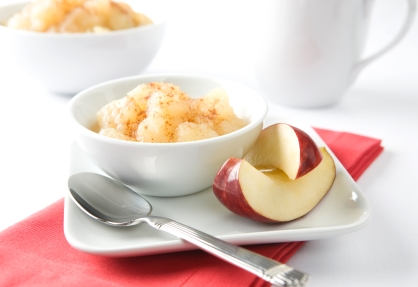 Apple sauce is the answer to all your low fat baking. Most bakers use butter in their products as it makes cakes light and fluffy. Apple sauce is the perfect ingredient to use in place of butter. I know you might be thinking that apple sauce will make the cake taste like apple as well as creating a runny and sticky consistency; however apple sauce does not affect the flavor of your cakes and certainly does not make them gooey.
Here is how you make my favorite apple sauce;
1.4kg Apples- Peeled, Cored and finely chopped.
1 Tbsp Lemon Juice
200g Caster Sugar
745ml Water
Method:
Place the chopped apples in a saucepan. If you would like your apple sauce lumpy, then cube the apples. Pour the water over the top of the apples so that they are barely covered.
Bring to the boil and then simmer over a low heat until you can place your knife through the pieces of apple and they are soft.
Place the apples into a food processor or blender. Once the cooked apples have been blended, place back in the sauce pan and stir in the sugar and lemon juice. Lemon juice is essential in this apple sauce as it prevents the apples from going brown. Cook on a medium to low heat for about 4 to 5 minutes.
If you are adding the apple sauce to a cake concoction, then ensure that you have sieved out the apple sauce to make sure that there are no lumps.
If you would like to ask me any questions please feel free to either leave a comment below or drop me an email to Jennifer@jenniferscakes.co.uk .
Happy baking!!!