Now that we are in September, I was thinking which kind of cupcake flavour would be perfect for this time of year.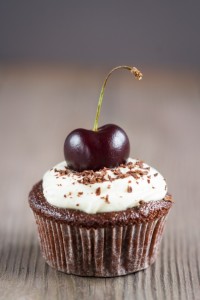 In September there are a number of fruits which have come into season and one of these is Black Cherries.
Black forest Cupcakes have a delicious flavour with the combination of black cherries and chocolate. Here is my divine recipe for Black Forest Cupcakes…

Ingredients;
–          200g Caster Sugar
–          2 Organic Free-Range eggs
–          175g Self Raising Flour
–          2 tbsp Cocoa Powder
–          125ml Milk
–          125g Butter (at room temperature)
–          100g Dark Chocolate – Melted and cooled (I like to use over 75% Cocoa solid)
–          360g Jar of Black Cherries in Kirsch
–          1 tsp Corn flour
–          300ml Double Cream which has been lightly whipped.
Method;
Set the oven to 180C and line a cupcake baking tray with cupcake or muffin paper liners. In a bowl add the butter and beat for approximately 5 minutes until the colour changes from a yellow colour to a pale cream colour. Once this colour change occurs, add in the sugar and beat again until the mixture becomes light and fluffy. Now, gradually add in the eggs one at a time, ensuring that each egg has been taken up by the mixture before the addition of the next egg. Once you have added the eggs, pour in the flour and cocoa powder and using a spatula fold it into the mixture. Once the flour and cocoa powder has been mixed in, fold in the milk and melted chocolate. Ensure that the melted chocolate is cold before adding it in the mixture. Spoon your mixture into your cupcake paper liners until they are 2/3 full and place in the oven for 20 to 25 minutes or until the cupcakes spring back to the touch. Once your cupcakes are ready, remove them from the oven and leave to stand in the baking tin for 10 minutes. Once the 10 minutes is up, remove them from the baking tin and leave to cool fully on a wire cooling rack.
Now it is time to make your whipped double cream and cherry icing. Start by draining your cherries ensuring that you save the Kirsch in a bowl below. Go over to your cupcakes and using a skewer, pierce a number of holes into each of your cupcakes and drizzle a teaspoon of kirsch over the top of your cupcakes. Don't use too much as it could make your cupcakes too wet and sloppy. Save the rest of the kirsch and in a small saucepan add the kirsch and the corn flour. Heat the saucepan and until it is just about to boil. Once it reaches this stage, remove the saucepan from the heat and mix until it thickens.
Go over to your cupcakes and using a knife, remove a small amount of cake from the centre of the cupcakes. Pour in a little bit of your thickened Kirsch, then spoon or pipe on some of your lightly whipped double cream and drizzle a little more Kirsch over the top. I like to add some chocolate shavings on top to finish the cupcakes as well as a fresh black cherry.
Serve and Enjoy!