These deliciously simple blueberry muffins are a delight for a breakfast 'on-the-go' or can be a delicious treat for when you get back from work. These delectable muffins are a great addition with a cup of tea.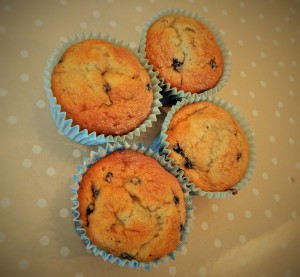 Ingredients;
200g Butter (at room temperature)
200g Plain Flour
200g Golden Caster Sugar
3 Large Free Range Organic Eggs
1 ½ tsp Baking Powder
125g Blueberries (finely chopped) fresh or frozen
Pinch of Cinnamon
Pinch of Nutmeg
Pinch of Salt
Method;
Set your oven to 180C and line a muffin tray with paper cupcake liners.
In a clean, dry bowl add your butter at room temperature and beat continuously until the colour changes from a yellow colour to a pale cream colour.
Once this colour change occurs, add in your golden caster sugar and beat again until the constancy has become light and fluffy.
Add in your eggs one at a time, ensuring that the whole egg has been incorporated before the next egg is added.
In a separate bowl, add your flour, salt, nutmeg, cinnamon and baking powder, stir with a spoon.
Now, add your flour mixture into your wet egg mixture 1/3 at a time, using a spatula and folding the mixture together. You need to keep as much air in the mixture as possible so do not over mix.
Add your finely chopped blueberries to the mixture, ensure that you save a few whole blueberries to place on the top of your muffin batter before you put them in the oven.
Once you have folded the finely chopped blueberries into the muffin mixture, spoon the batter into your pre-prepared muffin liners until they are 2/3 full. This will leave enough space for the muffins to rise in the oven and have that lovely 'muffin top'.
Place your whole blueberries on top of the muffin batter and place in the oven.
Leave your muffins to bake for 20 minutes, until the muffins turn golden brown.
Once your muffins are ready, they should spring back to the touch, however be very careful when testing them as the blueberries are cooked and the juice within the blueberries are as hot as molten lava.
Remove your muffins from the oven and leave to stand in their baking tray for 5 minutes. Once the 5 minutes is up, remove them from the baking tray and leave to stand on a wire cooling rack.
Once your muffins have cooled down fully, then you can munch away!
Serve your muffins with some fresh double cream to add a little decadence to your simple blueberry muffins.