Remember, every Christmas the food shops bring out those little chocolates with a cherry in the middl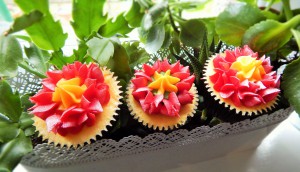 e surrounded by cherry liqueur? I love those chocolates so much that I have been thinking of a way to incorporate them into a cupcake, which you can enjoy all year round.
Ingredients for the cherry chocolate cupcakes;
150g Butter (at room temperature)
150g Plain Flour
150g Caster Sugar
50g Melted Dark Chocolate (over 70% cocoa) at room temperature
300g Cherry Jam (I like to use Morello cherry)
3 Free Range Organic Eggs
1 ½ tsp Baking Powder
Pinch of Salt
Ingredients for the cherry liqueur butter cream;
500g Icing Sugar 
250g Unsalted Butter (at room temperature)
4-6 tbsp Cherry Liqueur
1-1 ½ tsp Pure Cherry Extract
Gel Food Colouring
Method;
Set the oven to 180C and line a cupcake baking tray with paper cupcake liners.
In a clean, dry bowl add your butter and beat continuously until the colour changes from a yellow colour to a pale cream colour.
Once the butter becomes fully aerated, add in your caster sugar and beat again until the texture becomes light and fluffy.
Now, add in your eggs one at a time and then your jam and melted chocolate, beat again until completely combined.
In a separate bowl add your flour, salt and baking powder, stir with a spoon.
Now, add your dry mixture to your wet egg mixture 1/3 at a time, ensuring that the dry mix has been well incorporated into the wet mixture before the next addition of dry mix.
Once all of your ingredients have been added together, spoon your cupcake batter into the paper cupcake liners and place in the oven for 20 minutes.
Once your cupcakes are ready, they should spring back to the touch, or you will be able to insert a skewer into the centre of each cupcake and remove it clean, without any batter on it.
Remove your cupcakes from the oven and leave to stand in their baking tray for 5 minutes.
Once these 5 minutes is up, remove them from the baking tin and leave to stand in a wire cooling rack until completely cold.
Now it is time to whip up your butter cream.
In a cool, dry bowl add your butter at room temperature and beat continuously until the colour changes from yellow to a pale cream colour, this should take 5 minutes.
Once the colour change occurs, add in your icing sugar, 1 tablespoon at a time. I know this may take a while and can be quite tedious however, if you add it too quickly, then whilst stirring your icing sugar can end up all over your kitchen other than in your butter cream.
Once your icing sugar has all been added, you may find that the butter cream may be a little thick and hard to mix. At this point add in your cherry extract and your cherry liqueur.
Beat again and add whatever food colouring gel that you fancy! I prefer to use gel food colouring as it does not affect the consistency of the butter cream. Be aware that if you use gel, then you do not need to add very much to the butter cream as it is extremely concentrated.
Pipe your butter cream onto your cupcakes and serve!
Hope you have enjoyed this recipe, please don't forget to share!