This delicious combination of chocolate and vodka is perfect if you are planning a party or as a gift for your friends on their birthdays.
Here is my delicious recipe;
Ingredients for the Cake;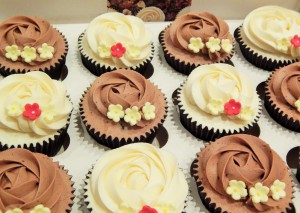 200g Castor Sugar
200g Unsalted Butter (at room temperature)
140g Plain Flour
60g Pure Cocoa Powder
Pinch of salt
4 Free Range Organic Eggs
2tsp Baking Powder
3tbsp Vodka
Ingredients for the Vodka Syrup;
4 tsp Castor Sugar
5 tbsp Vodka
2 tbsp Hot water
Ingredients for the Butter Cream;
Vanilla Vodka
500g Icing Sugar
250g Unsalted Butter (at room temperature)
2 tsp Pure Vanilla Extract
4 tbsp Vodka
Chocolate Vodka
500g Icing Sugar
250g Unsalted Butter (at room temperature)
100g Pure Melted Chocolate over 70% Cocoa (at room temperature)
4 tbsp Vodka
Method;
Set your oven to 180C and line a cupcakes baking tray with paper cupcakes liners.
In a clean, dry bowl add your butter and beat continuously for 5 minutes until it turns from yellow to pale cream colour
Add in your sugar and beat until light and fluffy.
Add in your eggs, one at a time, ensuring that each egg is well incorporated before the next addition.
In a separate bowl, add in your flour, baking powder, salt and cocoa powder and stir with a spoon.
Now, add your flour mixture into your egg mixture 1/3 at a time.
Once all of your ingredients are added together, add you vodka and stir evenly through.
Spoon your mixture into the paper cupcake liners until they are 2/3 full and place in the oven to bake for 20 minutes.
To make the vodka syrup, add the sugar into a pyrex dish and add your boiling water. Once all the sugar has dissolved, add the vodka and stir.
Once the cupcakes are ready, they should spring back to the touch.
Remove the cupcakes from the oven and using a cocktail stick, pierce holes into each cupcake.
Now, using a brush, brush your vodka syrup over the top of each cupcake until the top of each cupcake becomes sticky.
Leave your syruped cupcakes on a wire rack to cool fully.
Now, it is the perfect time to make your two types of buttercream.
For the vanilla buttercream, add your butter into a clean, dry bowl and beat continuously for 5 minutes until the colour change occurs.
Now, spoon by spoon add in your icing sugar slowly.
Once all of your icing sugar has been added, add in your vanilla extract and beat again.
Now, add in the vodka and beat continuously.
Pipe the vanilla buttercream onto your cupcakes.
For the chocolate vodka butter cream, place the butter into a clean dry bowl and same as above, beat for 5 minutes.
Now, spoon the icing sugar into the butter, slowly.
Add in your 100g of melted chocolate that has been cooled to room temperature.
Once the chocolate has been well incorporated, add in the vodka and ensure that it has been mixed totally into the buttercream.
Now, pipe the chocolate vodka buttercream onto your cupcakes and serve!
If you have enjoyed this recipe, please do not forget to share!
Lots of love,
Jennifer
xxx