As we all know, mint and chocolate go so well together and instead of using a simple mint extract, I was thinking of a way to jazz it up a little by using Crème de Menthe, adding a little bit of alcohol to the mix.
This is how you make my delicious Chocolate Cupcakes with Crème de Menthe Butter Cream:
Ingredients for the cake: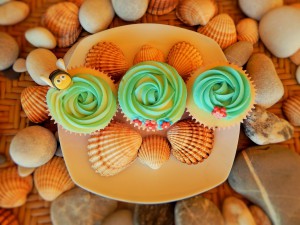 140g Plain Flour
200g Caster Sugar
200g Butter (at room temperature)
3 Free Range Organic Eggs
1 ½ tsp Baking Powder
60g Cocoa Powder (at least 70% cocoa solid)
Pinch of Salt
1 ½ tsp Crème de Menthe
Ingredients for the Butter Cream:
250g Butter (unsalted at room temperature)
500g Icing Sugar
6 to 8 tbsp Crème de Menthe
1 ½ tsp Green Food Colouring
Method:
Set your oven to 180C and line a cupcake baking tray with paper cupcake liners.
In a clean, dry bowl add your butter and beat continuously for 5 minutes, until the butter has turned from a yellow colour to a pale cream colour. Once this colour change occurs and the butter is smooth, the butter has become fully aerated and is ready for the next step.
Add in your caster sugar and beat again until light and fluffy.
Now, add in your eggs one at a time, ensuring that all the egg has been taken up by the butter and the sugar before the next addition of egg.
Once all of your eggs have been added, pour in your crème de menthe.
In a separate bowl add your flour, salt, baking powder and cocoa powder, stir with a spoon.
Now, add your flour mixture 1/3 at a time to your egg mixture.
Once all of your dry ingredients have been added to your wet ingredients, mix well.
Spoon your cupcake batter into the paper cupcake liners until they are 2/3 full. This will leave enough space for the cupcakes to rise during the baking process without any overspill.
Place your cupcakes in the oven and leave to bake for 20 minutes or until you can insert a skewer into the centre of the cupcakes and remove it without any batter on it. Another way of checking if your cupcakes are ready, is by placing gentle pressure on the top of the cupcake and if it springs back to the touch, then your cupcakes are ready. Please take care when doing this as the cupcakes will be extremely hot.
Once your cupcakes are ready, remove them from the oven and leave to cool in their baking tray for 5 minutes.
Once these 5 minutes are up, remove the cupcakes from the baking tray and leave to cool fully on a wire cooling rack.
Whist your cupcakes are cooling, this will leave you with the perfect amount of time to whip up your butter cream.
In a clean, dry bowl add your butter and beat continuously for 5 minutes.
Once the colour change occurs from a yellow colour to a pale cream colour, add in your icing sugar 1 tablespoon at a time and mix well with each addition. This stage will require a little patients and I know that you may feel that using an electric mixer is the answer but it is not. DO NOT use an electric mixer as the icing sugar will end up everywhere other than in your butter cream.
Once all of your icing sugar has been mixed with the butter, you may find that the texture is a little stiff, add in your crème de menthe a tablespoon at a time, until the mixture becomes that of butter cream (you may not have to use all of the crème de menthe).
Add in your green food colouring and mix again well to avoid a marbling effect.
Now your butter cream is ready to pipe onto your cupcakes. Decorate with a sugar paste heart or flowers, or anything you like!
Serve with a cup of tea or even a shot of crème de menthe. These cupcakes are a delightful addition to the end of a meal and really cleanse the palate.
Have a very Happy Valentine's Day!!