I know it's been such a long time since I posted a recipe. Life has been crazy with twists and turns at every corner. But now I'm back and here is yet another delicious cupcake recipe for all you budding bakers out there to enjoy.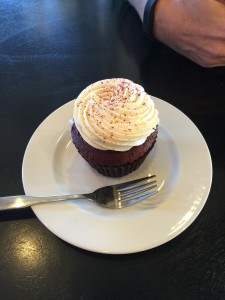 So, my husband and I have been holidaying in Spain recently, enjoying the Spanish lifestyle. With the Spanish lifestyle comes Spanish cuisine and Spanish drink. I'm not one to drink beer, but one night of partying with my friend Lara led to me trying this delicious Spanish beer called Desperado. Desperado is one of these beers, which has a tequila flavouring added to it. Not only does it taste good, it also seems to get you drunk pretty quickly. Of course, as soon as I tried it, my bakers-mind kicked in (with a little help from Lara) and I began thinking about how I could incorporate it into a cupcake, and here you have my thought process – Chocolate Cupcakes with a Desperado Buttercream. Hope you enjoy!!
This is what you will need for the Cakes:
200g Caster Sugar
200g Unsalted Butter (at room temp)
140g Plain Flour
60g Pure Cocoa
4 Medium Free Range Organic Eggs
2 tbsp Desperado Beer
Pinch of Salt
1 ½ tsp Baking Powder
This is what you'll need for the Butter Cream:
­500g Icing Sugar
250g Unsalted Butter (at room temp)
4 tbsp Desperado Beer
Method:
Set your oven to 180C and line a cupcake-baking tray with paper cupcake liners.
In a clean, dry bowl add your butter at room temperature and mix continuously for 5 mins, until it turns from a yellow colour to a pale cream colour.
Once the colour change occurs add in your sugar and mix until light and fluffy.
Add in your eggs one at a time until they are incorporated into the butter and sugar. Don't worry if the consistency starts to split, as it will all come together a bit later.
Add in the beer and stir well.
Now, in a separate bowl, add your flour, baking powder, cocoa and pinch of salt.
Sift 1/3 of this dry mixture into your wet egg mixture and wizz it up.
Now continue adding another 1/3 and once that 1/3 has been mixed in, repeat until all of the dry mix has been added to the wet mix.
That's it! Now, once all the ingredients for the cake batter is all together and mixed well, place the batter into each cupcake liner until it is 2/3 full.
Once all your paper cupcake liners have been filled, using the back of a plastic spoon, work your way around the cupcake batter until it is flattened (you may need to remove some of the batter from the centre, as this will help your cupcakes come out flat once they are baked, making them easier to decorate).
Place the cupcake batter into the oven for 15-20 minutes, until the cupcakes spring back to the touch.
Once they are baked, remove them from the oven and leave to stand in the baking tray for 5 minutes.
Once 5 mins is up, remove them from the baking tray and leave to stand until completely cold.
Method for the Butter Cream:
Whilst your cupcakes are cooling, this will provide ample time to prepare the butter cream
In a clean, dry bowl add your butter (at room temp) and beat continuously for 5 minutes until the colour changes from yellow to pale cream.
Add your icing sugar, a tablespoon at a time. If you're mixing with an electric mixer, make sure you mix the icing sugar in with a spoon first as the icing sugar will end up all over the surfaces as soon as you turn the whisker on.
Once all the icing sugar has been mixed with the butter, the texture should be quite tough. At this point add in the 4 tbsp of desperado beer and mix again until your butter cream is smooth and ready to pipe onto your cupcakes.
Pipe the buttercream onto your cupcakes and hay presto you have delicious desperado flavoured chocolate cupcakes.
If you can't get hold of Desperado beer, then you can follow this recipe using any light coloured beer (ale) that you fancy.
Hope you've enjoyed this recipe and looking forward to hearing your comments!
Lots of love,
Jennifer
xxx