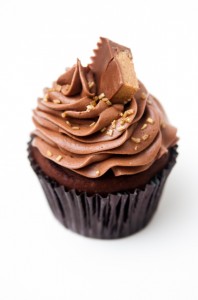 Whenever I think of peanuts, I then immediately think of chocolate! Following that thought process, I think … Reeses Peanut Butter Cups! Hmmm I wanted to try and incorporate the flavours of chocolate and peanuts into a cupcake and this is how it is done…
This is what you will need for the chocolate cupcakes;
–          200g Butter at room temperature
–          130g Plain Four
–          200g Caster Sugar
–          4 Free Range Eggs
–          70g Melted but cooled Dark Chocolate (over 75% Cocoa Solids)
–          1 ½ tsp Baking Powder
–          1 ½ tsp Bicarbonate of Soda
–          Pinch of Salt
Peanut butter and chocolate butter cream;
–          500g Icing Sugar
–          250g Peanut Butter
–          60g Melted but cooled Dark Chocolate (over 75% Cocoa Solid)
Method;
Set the oven to 180C and line a cupcake baking tray with paper cupcake or muffin liners. In a clean, dry bowl add the butter and beat for up to 5 minutes until the butter has become fully aerated, this will help with the rise of the cupcakes during the baking stage. The butter should turn from a yellow colour to a pale cream colour. After the 5 minutes of beating, add in the caster sugar and beat again until the texture has become light and fluffy. Now, add in the eggs one at a time ensuring that each of the eggs has been taken up by the mixture before the next addition of egg. Once all of the eggs have been incorporated into the mixture, in a separate bowl, add in the dry ingredients, this includes; Flour, Salt, Baking powder and Bicarbonate of soda and stir with a spoon. Now, add you dry ingredients to your wet, egg mixture 1/3 at a time. Once all of the dry ingredients have been added to the wet egg mixture, fold with a spatula. Then, add in the melted chocolate and fold again until everything has been well folded together.
Now all your ingredients have been incorporated, pour the chocolate cupcake batter into your cupcake or muffin paper liners, until they are 2/3 full. Place in the oven and bake for 20 to 25 minutes, or until they spring back to the touch. Once you cupcakes are ready, remove them from the oven and leave to stand in the baking tray for 10 minutes. Once the 10 minutes is up, remove them from the baking tray and leave to stand on a wire cooling rack until they are completely cold.
Now is the time to make the peanut butter and chocolate icing. In a clean, dry bowl add in the peanut butter and beat for 5 minutes until smooth. Add in your icing sugar a spoon at a time and mix well. Once all of the icing sugar has been incorporated, you can use an electric mixer to bind the ingredients. Once the mixture has thickened, add in the chocolate and mix well again.  Your cupcakes should be completely cold by now, so pipe onto your cold cupcakes and finish with a quarter of a Reeses Peanut Butter Cup.
Serve with a cup of tea and there you have it… My Chocolate Cupcakes with Peanut Butter and Chocolate Butter Cream Icing. Enjoy!