As a child, I was regularly taken on camping trips with my family, and you guessed it… where there is camping, there is a camp fire and where there is a camp fire, there are marshmallows!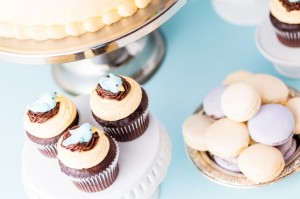 One of my fondest memories of camping, took place around the camp fire.
So, I was asked recently by a friend; 'if you could make your childhood into a cupcake, what flavour would it be?' so I have chosen my Chocolate cupcakes with toasted marshmallow meringue.
This is how you make my deliciously gooey Chocolate Cupcakes with Toasted Marshmallow Meringue icing.
Ingredients for the chocolate cake;
–          70g Cocoa Powder
–          130g Plain Flour
–          200g Caster Sugar
–          200g Butter at room temperature
–          1 tsp Baking Powder
–          1tsp Bicarbonate of Soda
–          3 Free Range Eggs
–          Pinch of Salt
For the gooey toasted marshmallow centre;
–          12 Large Marshmallows
For the Toasted Marshmallow Meringue Icing
–          3 Free Range Egg Whites
–          175g Golden Caster Sugar
–          1 tbsp Water
–          Pinch of Salt
Method;
Set the oven to 180C and line a cupcake baking tin with paper cupcake liners. In a clean, dry bowl add the butter and beat for 5 minutes until the colour changes from a yellow colour to a pale cream colour. Once this colour change has occurred, this means that the butter has been fully aerated and is now ready for the addition of the sugar. Once you have poured in your sugar, beat again until the consistency turns light and fluffy. Once you have reached the correct consistency, add in your eggs one at a time, ensuring that each egg has been well mixed in before the next addition of egg. Once all of the eggs have been incorporated into the mixture, in a separate bowl add all of the dry ingredients which include; salt, flour, bicarbonate of soda, baking powder and cocoa powder and stir with a spoon. Using 1/3 at a time, pour in your dry ingredients into your butter and egg wet mixture, mixing well before the next 1/3. Once all of your ingredients have been added together, spoon your cupcake batter into your cupcake paper liners until they are 2/3 full. Place your cupcake batter into the oven for 20 to 25 minutes or until the cupcakes spring back to the touch. Once your cupcakes are ready, remove them from the oven and leave to stand in their baking tin for 10 minutes. Once the 10 minutes is up, remove them from the cupcake baking tin and leave to stand on a wire cooling rack until the cupcakes are completely cold.
Now, we can make the toasted marshmallow icing.  Add the egg whites, sugar and the 1tbsp water and a pinch of salt into a Pyrex bowl, if you do not have a Pyrex bowl, then make sure the dish that you are using is heat proof and can fit in the top of a saucepan but not touch the bottom. Place a pan of boiling water on the stove and place your bowl of ingredients over the top. Make sure that the bowl does not touch the hot water. Whisk all of the ingredients until the consistency of the mixture thickens. Once you begin to see the tracks of your whisk and the mixture can form soft peaks, remove the bowl from the heat and continue to whisk for approximately 3 minutes, the mixture should be a little cooler and really stiff. Your marshmallow icing is ready to use.
Before you use the marshmallow icing, go over to your now cooled cupcakes and using a spoon, spoon out a small ball from the centre of your cupcakes, leave the cake that you removed, to one side as you are about to use those pieces as little lids for the filling of your cupcake. Using a skewer, stick your large marshmallows on the end of your skewers and stick them over a small flame, until they become burnt on the outside but gooey in the middle. Once your marshmallows are ready, stick it in the centre of your cupcake and place the cake lid on top. Once you have filled all your cupcakes, now is the time to pipe on your marshmallow icing and serve with a cup of tea.
Hope you have enjoyed my recipe for chocolate cupcakes with toasted marshmallow icing. If you have any questions please do not hesitate to get in touch.
Ciao for now!