Now, I've heard of people putting coca cola with chicken, so why wouldn't you think about coca cola in a cupcake? It's a new concept but yummy non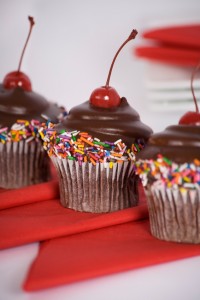 e the less. This is how you make my yummy coca cola cupcakes;
What you will need;
For the cake bases:
–          250g Caster sugar (I prefer to use golden caster sugar for this recipe as it adds a different flavour to your mixture).
–          200g Plain flour
–          Pinch of salt
–          1 tsp baking powder
–          1 large free range eggs or 2 small

–          125g unsalted butter at room temp
–          125ml butter milk
–          1 ½ tsp pure vanilla extract
–          175ml Coca Cola (regular)
–          2 tbsp cocoa powder
For the butter cream;
–          500g icing sugar
–          250g unsalted butter at room temp
–          40 ml whole milk
–          2 tbsp cola syrup (you can buy this from any supermarket or from soda stream
–          Popping candy
–           40g cocoa powder
To decorate;
Stripy straws, candy cola bottles (anything sweet, I like to use a glace cherry and some hundreds and thousands as well as some popping candy)
Method
Set the oven to 180C and line your muffin baking tray with muffin liners. In a clean dry bowl add your butter and whisk for approximately 5 minutes until the butter has turned from a yellow colour to a pale cream colour. Once your butter has been whipped fully, add the sugar and mix until the consistency is light and fluffy. Add the egg/s, butter milk, vanilla extract and coca cola and mix well until every part of the ingredients have been taken up. In a separate bowl add the flour, baking powder, salt and cocoa powder. Now it is time to mix everything together, take a 1/3 at a time of the flour mix and add it to your butter mix, stir in well before the next addition, until everything has been well mixed together.
Pour the mixture into your muffin liners and set in the oven. The baking time is around 20 minutes so ensure you check them regularly as there is a fine line between done and burnt. One way to check if your cupcakes are ready is to insert a skewer into the centre of the cupcake and if it comes out clean then they are done. Take them out of the oven and set aside, still in the baking tin for 10 minutes. Once the 10 mins is up, take them out of their baking tin and leave to cool fully on a wire cooling rack.
Now for the Butter Cream;
In a clean, dry bowl add the butter and whisk again for 5 minutes until it turns form a yellow colour to a pale cream colour. Add the icing sugar a heaped spoonful at a time and DO NOT USE AN ELECTRIC WHISK. If you use your electric whisk at this point in the process, the icing sugar will end up everywhere other than in your butter cream. Using a plastic spatula always works wonders for me however, you will need to use some elbow grease. Once all of the icing sugar has been mixed in and there are no strays, then you can now use your electric whisker and add in the cocoa powder, cola syrup and milk and beat the mixture slowly. Once everything has been incorporated, you can now mix on a higher setting until the consistency has become light and fluffy. Once you have reached the right consistency, remove the whisker and stir in your popping candy (as much as you like). As there is moisture in the butter cream mixture, the popping candy will soon lose its pop so make sure the butter cream is done just 30 mins before you serve. Now your cupcakes are completely cold, pipe the icing onto the cupcake base and decorate to your taste. I usually add a glace cherry, hundreds and thousands and lashings of popping candy. Really, you can add anything you like as long as it looks soda like. If you have any questions or just need some advice, you know where to find me!
Happy Baking x