What could be more exciting than putting together the two most deliciously decadent treats on one plate?
Cocktails and cupcakes are perfect for hen parties, birthdays and even girly nights in, they are even amazing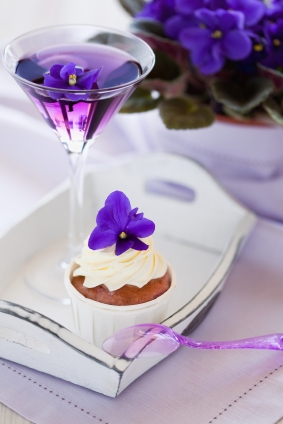 for all the guys out there who will never admit to liking the sheer variety of extremely feminine cocktails which are available nowadays.
Cocktails are amazing and the fact that we, at Jennifer's Cakes have the ability to make them even better and enhance their flavor by using nothing other than a cupcake which is flavoured with the most incredible complimenting flavors which work perfectly with their particular corresponding cocktail. This combination not only offers quite an amazing taste sensation, it also offers something sweet to eat along with your cocktail whilst out for a drink, which can line your stomach and prevent you from getting too tipsy. You must drink responsibly however, when on a night out, this can be a great addition to your evening.
Our Cocktail and cupcake of the month is this incredible lavender cocktail with a delicious mix of lavender and vodka cocktail which has been decorated with a stunning violet, hope you enjoy…
You know what to if you would like to order a batch of cupcakes with their own individual cocktail recipe… give us a call or send us an email.