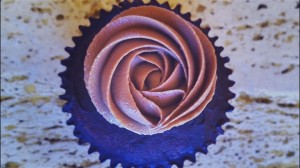 When working with chocolate, bakers like to think of all the different flavour combinations that work well with chocolate. Chocolate and sea-salt happens to be a fundamental combination which 'works' every time. The salt mixed together with the chocolate, not only provides a crunchy texture but also enhances the flavour of the chocolate. This is why I have decided to make this the basis for my next recipe.
This is how you make my deliciously decadent sea salt and dark chocolate cupcakes.
Ingredients;
–          200g Butter at room temperature
–          120g Plain flour
–          200g Caster sugar
–          80g Dark chocolate (I like to use dark chocolate which is above 75% cocoa)
–          1 ½ tsp Baking powder
–          4 Free-range eggs
–          Pinch of sea-salt
Chocolate Butter Cream Icing
–          100g Dark chocolate (same as used in the cake batter)
–          500g Icing Sugar
–          250g salted butter (at room temperature)
–          1 ½ tsp Sea salt crystals
Method
Set the oven to 180C and line a cupcake baking tin with cupcake or muffin liners, depending on how big you would like your cupcakes to be.
Firstly, we will begin with melting down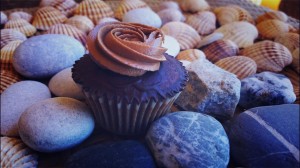 the chocolate so… break your chocolate into smallish pieces and place in a Pyrex dish or any dish which is heat resistant. Fill a small saucepan with boiling water and place your Pyrex dish containing your chocolate, into the boiling water. Stir your melting chocolate continuously until your chocolate is smooth and completely melted. Once this occurs, move your chocolate dish out of the boiling water and leave to one side, until the chocolate has cooled completely. Even though you have removed the chocolate from the heat, it will still remain melted at room temperature. Continue to stir in 5 minute intervals to ensure that no lumps form.
Whilst the chocolate is cooling, now is the time to prepare your cake batter. In a clean, dry bowl add the butter and beat until the butter has become fully aerated. I like to beat my butter for up to 5 minutes until there appears to be a colour change from a yellow colour to a pale cream colour. Once you observe this colour change, beat in the sugar and mix again until the sugar has become complete incorporated and the texture is of a light and fluffy consistency. Next, add in the eggs one at a time, making sure that each egg has been well mixed in before the next addition of egg. Once all the eggs have been added in, get a separate bowl and add in all of your dry elements. The dry elements will include the flour, salt and baking powder. Once these have been stirred, add your dry ingredients to your wet, egg mixture 1/3 at a time. Make sure each 1/3 has been well incorporated together before the next 1/3. Now it is time to add your melted chocolate. Pour in your cooled, melted chocolate and combine all of the ingredients together until you have a smooth mixture. Spoon into your cupcake liners until they have been filled to 2/3 of its capacity. This will leave enough space for your cakes to rise in the oven without over spill.
Place your cupcakes into the oven and leave to bake for 20 to 25 minutes. Check on them regularly to ensure that they are not burning. A simple way of checking if your cupcakes are ready is to press gently in the centre of each of your cupcakes, if they spring back to the touch then they are done. Another way to check if your cupcakes are done is to insert a skewer into the centre of each cupcake and if you can remove it clean, without any batter on the skewer then your cupcakes are ready to be removed from the oven. Once the cupcakes have been removed from the oven, leave to one side in their baking tin for 10 minutes. Once this 10 minutes is up, remove them from the baking tin and leave to cool fully on a wire cooling rack.
Whilst your cupcakes are cooling, this will give you the perfect opportunity to make the butter cream icing. T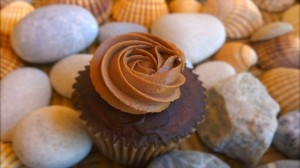 he first step is the same as when you made the batter of the cupcakes. Using the same technique as
above, melt your chocolate and leave to cool fully on the side. Take a clean, dry bowl and beat your butter until it has become fully aerated and changed from a yellow colour to a pale cream colour. Add in your icing sugar a spoon at a time and DO NOT use an electric whisker at this stage. Once all of your icing sugar has been mixed in to your butter, now you can use an electric mixer and pour in your cooled melted chocolate. Mix well and add in your sea salt crystals. Pipe onto your cold cupcakes and serve. I like to serve with a cup of tea or coffee.
Enjoy!