I know it is not the time of year for gingerbread however I think gingerbread should be enjoye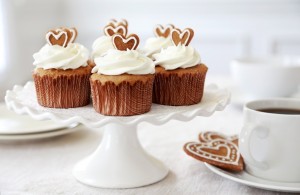 d all year round, especially when they can be made in gingerbread cupcake form.
This is how you make my scrummy gingerbread cupcakes…
Ingredients for Cupcakes;
–          300g Plain flour
–          140g Butter at room temperature
–           60g Golden syrup
–          60g Black treacle
–          200g Golden Caster sugar
–          2 Free-range eggs
–          1 tsp Ground ginger
–          2 ½ tsp Baking powder
–          1 tsp Ground nutmeg
–          Pinch of salt
–          240ml Warm milk
Ingredients for Vanilla Butter Cream;
–          500g Icing Sugar
–          250g Un-salted butter
–          6 to 8 tbsp Milk
–          1 ½ tsp pure vanilla extract
Method:
Set your oven to 180C and line your cupcake baking tray with paper cupcake or muffin liners, depending on what size you would like your cakes.
In a clean, dry bowl add your butter and beat for up to 5 minutes. This will aerate your butter and help to make your cakes light and fluffy. You will notice that the butter will change colour from a yellow colour to a pale cream colour. Once the butter has become creamed and you notice the colour change, add in your sugar and mix well until the texture becomes light and fluffy. Once this change occurs, add in the eggs one at a time, ensuring each egg has been well mixed in before the next addition of egg. Add in your black treacle, golden syrup and milk and mix well. In a separate bowl sift in your flour, baking powder, salt, ground nutmeg and ground ginger. Once all your dry ingredients have been stirred, pour in your dry mixture, into your wet mixture about 1/3 at a time. Once all the ingredients are mixed together in one bowl, use a spatula and fold the mixture until it has become lump free and smooth in consistency.
Pour your cupcake batter into your cupcake or muffin liners until they are 2/3 full, this will allow the cakes to rise in the oven without any over spilling. Place your cupcakes in the oven and leave for 20 to 25 minutes. Once your cakes are ready they should spring back to the touch. Another way to check if  you cakes are ready is to insert a skewer into the centre of each cupcake and if you can remove it without any batter sticking onto the skewer, then your cupcakes are ready to be removed from the oven. Once removed from the oven, leave to stand for 10 minutes in the baking tin and once the 10 minutes is up, remove the cakes from the baking tin and leave to stand on a wire cooling rack until they are completely cold.
Whilst waiting for the cupcakes to cool, this will give you the perfect amount of time to make the vanilla butter cream icing.
In a clean dry bowl, add the butter and using the same technique as used previously, beat the butter for up to 5 minutes until the butter changes from a yellow colour to a pale cream colour. Once this stage is complete, add in the icing sugar a spoon at a time and DO NOT use an electric mixer as the icing sugar will end up everywhere other than in your butter cream. Once all the icing sugar has been added to the butter and has been mixed in well, then you can use an electric mixer. At this stage the butter cream will be extremely thick so add in your milk a tablespoon at a time until your mixture creams well. Add in your vanilla extract and pipe onto your cold cupcake. I like to decorate with a gingerbread cookie which I will show you how to make in my next post.
Serve with a cup of tea and there you have it….
Enjoy!