Tea cupcakes seem to be all the rage at the moment, with people asking me to make them left, right and centre. So, as they are hugely popular, I thought I would let you into some of my baking secrets for green tea cupcakes with vanilla butter cream…
Ingredients for the cakes;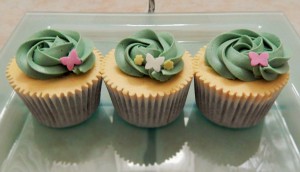 4 Green Tea Teabags
150ml Semi-Skimmed Milk
115g Butter (at room temperature)
3 Organic Free-Range Eggs
230g Caster Sugar
2 ½ tsp Green Tea Powder
125g Plain Flour
130g Self-Raising Flour
1 ½ tsp Baking Powder
Pinch of Salt
Ingredients for vanilla butter cream;
500g Icing sugar
250g Unsalted Butter (at room temperature)
2 ½ tsp Pure Vanilla Extract
5 tbsp Milk
Method;
Set your oven to 180C and line a cupcake baking tray with paper cupcake liners.
In a saucepan, place your milk and tea bags. Place over a medium heat until the milk begins to boil. Once this happens, remove the saucepan off the heat and leave to sit for an hour to marinate and cool fully.
Once the milk has cooled fully, remove the tea bags and add the green tea powder and stir with a spoon, leave to one side.
In a clean, dry bowl add your butter and beat continuously for 5 minutes, until the colour changes from a yellow colour to a pale cream colour.
Once this colour change occurs, add the sugar and beat again until the texture become light and fluffy.
Next, add in your eggs one at a time, ensuring each egg has been well incorporated into the mixture before the next addition of egg.
In a separate bowl, add in your plain flour, self-raising flour, salt and baking powder, stir with a spoon.
Add in your dry, flour mixture to your wet mixture 1/3 at a time, until all of the ingredients have been added together.
Now, get your milk at room temperature and remove the tea bags, ensuring that you have squeezed out all of the excess milk within the tea bags.
Pour your green tea milk into the batter and stir until completely incorporated.
Once your cupcake batter is ready, spoon your mixture into the paper cupcake liners until they are 2/3 full, this will leave enough space for the cupcakes to rise in the oven without any over spill.
Place your cupcakes in the oven to bake for 20 minutes.
To check if your cupcakes are ready, insert a skewer into the centre of each of the cupcakes and if you can remove it clean, then your cupcakes are ready. Another way to check is if your cupcakes spring back to the touch, then they are ready to be removed from the oven.
Remove your cupcakes from the oven and leave to stand in their baking tray for 5 minutes.
After these 5 minutes, remove the cupcakes from their baking tray and leave to cool fully on a wire cooling rack.
Whilst your cupcakes are cooling, now is the perfect time to create your vanilla butter cream.
In a clean, dry bowl add your butter at room temperature and beat continuously until the colour changes from yellow to pale cream colour.
Once this colour change occurs, add in your icing sugar a small amount at a time, to ensure that the icing sugar does not go everywhere other than in your butter cream.
Once all of the icing sugar has been added, add in your vanilla extract and mix again.
If you feel that your butter cream is too stiff, then add in the milk, one tablespoon at a time until your butter cream has reached the correct consistency (you may not have to use all of the milk).
Now, your butter cream is ready, pipe onto your cold cupcakes and serve with a gorgeous cup of green tea.
Hope you have enjoyed this recipe and if you have please do not forget to share!!