When looking for a wedding cake, there are some important steps that you should go through with your partner in order to choose the perfect wedding cake.
Step one: Planning
When planning your wedding, one of the first things you need to look at, is how much time you have between the time you got engaged and the wedding itself. It is of utmost importance to plan your wedding cake well in advance. This is so that you have enough time to figure out which cake you would like, but additionally who is going to bake it for you. Most good bakers plan months if not years in advanced, so you should start looking for a cake and a baker as soon as you can. The summer months are usually the busiest time for wedding professionals so if you are planning a wedding around the 'Wedding Season' make sure to get your orders in first.
Step Two: Looking for Ideas
You may have already decided on your colour scheme and theme of your wedding, however this does not automatically mean that your wedding cake will fit into that criteria – which is completely normal. You may have ideas that don't fit completely with your theme, so it is vital that you start doing your research well in advance. You may want to: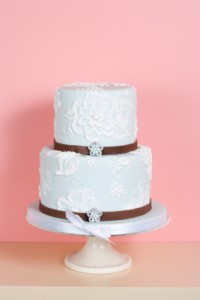 Read wedding magazines/wedding cake magazines
Look at wedding cakes online/wedding cake blogs
Visit various bakeries which all have beautiful window displays.
Go to wedding fairs (they have some amazing ideas that you might not thought possible)
 There are so many ways of researching wedding cakes, so get started now.
Step Three: Know the Different Wedding Cake Categories
There are two types of wedding cake, the 'Traditional' and the 'Alternative' wedding cake.
Traditional – The traditional fruit cake is absolutely delicious. The best thing about a fruitcake is not only the alcohol bakers use in it, but additionally, it can be stored in the freezer and thawed out for your first year wedding anniversary, this is something you cannot do with other kinds of alternative cakes (so would be important if you're thinking of having a slice of wedding cake for your anniversary).
Alternative Wedding Cakes – These can include;

Cupcake Wedding Cakes – a selection of tiered cupcakes (perfect for handing out to your guests.
Naked Cakes – these are absolutely stunning and quirky. These cakes have all the icing on the inside and nothing on the outside, a great idea if you are having a wedding in an outdoor setting or barn.
Croquembouche – this is a cone shaped tower of profiteroles, elegant and beautifully presented. A Croquembouche could be a show stopper at your wedding. This type of wedding cake can be the perfect suggestion for individuals looking to keep the budget low for their wedding, as not only does it serve as a wedding cake, it can also be used as a dessert for your wedding guests.
Cheese Cake Wedding Cakes – These are the perfect solution for the couples out there who do not enjoy a slice of cake. A cheese cake wedding cake can be an elegantly presented in tiers and can also be used as a dessert for those pinching the pennies.
Dessert Tables – Instead of having a 'wedding cake' some couples opt for a whole table of dessert treats which will invite their guests to choose what they want. With a dessert table, you can even have a small cake which you can cut, during the meal.
Themed Cakes – These are a great idea for couples who have a mutual love for something, for example; if you are a couple who are obsessed with water sports, why not have a cake which resembles the things you love doing with each other (within reason).
Step Four: Choose your budget
When looking for a wedding cake, it can become all too easy not see a huge price tag, however it is important to know what type of cake you are looking for and then compare prices of various wedding cake makers. Once you have worked out a budget that works for you, you can then take the next step which is going to see your cake makers and discussing certain personal preferences and even ways you can discount certain parts of your chosen cake.
Step Five: Make appointments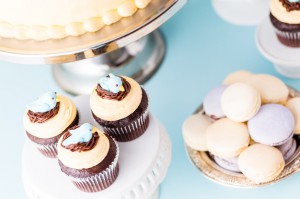 Making lots of appointments with various bakers is an essential step in your search for the perfect wedding cake. This step should not be rushed. Take your time, compare your ideas with the ideas they present to you and if you just do not feel that connection to the baker and they just 'don't get it' then move on. You must remember one thing about this process; 'THIS IS YOUR CAKE NO ONE ELSES!' As with most businesses some bakers have the habit of trying to persuade you to go for something either a little easier for them but also something a little more expensive for you, so just remember that you will stop at nothing to get the cake that you want and deserve.
When talking to a wedding cake professional you should ask for the following things:
Portfolio – Most bakers will have a portfolio of their work, which you cans skim through and use to see their skills. Additionally, you can use this for new ideas, often bakers have thought of an idea which you may not have thought possible. Bakers do often have a selection process meaning that you can have one idea from one cake and use the colours from another etc… This is great and can help give you exactly what you want.
Cake Samples – this is VITAL! If the baker does not have a selection of flavours for you to try, either arrange another meeting or don't go with that particular baker.
Appearance of their bakery or studio – I know that you should never judge a book by its cover, however if you go to bakery which is a complete mess, you have to think – 'how will this look when they make my wedding cake?' If the place is complete and utter chaos, then that baker may be extremely unorganized and is not the kind of person whom you would like to make your dream wedding cake. Remember that bakers should be there to ease your worries not add to them.
 Step Six: Ask your chosen baker to draw you a sketch
You may have imagined what your cake will look like from a very young age, however it is important to put pen on paper and really g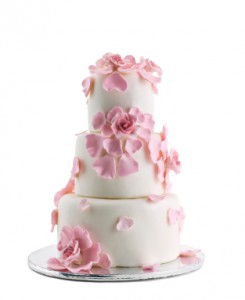 et to grips with what your cake will look like at your wedding. The important things to remember when talking to your chosen baker is;
Ensure that you are very clear with your baker, what your budget is. If you have designed something that is not within your budget, then they might have other suggestions on what can be done.
How many people will the cake have to serve?
If you are looking for a Baker who can ease your worries and lift a very heavy weight off your shoulders, a Baker who knows how weddings work and knows how to make your dreams and wishes come true without breaking the bank, then get in touch!
There you have it! All of my top tips for those brides and grooms looking to have the best wedding cakes possible! I hoped these points have helped you and if you have any questions or suggestions please drop me and email to jennifer@jenniferscakes.co.uk or just leave a comment in the box below! Don't forget to share!
Lots of Love,
Jennifer and all at Jennifer's Cakes
Head Baker / Owner of Jennifer's Cakes