Over the warm summer months you might be looking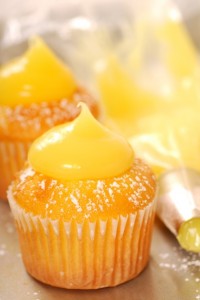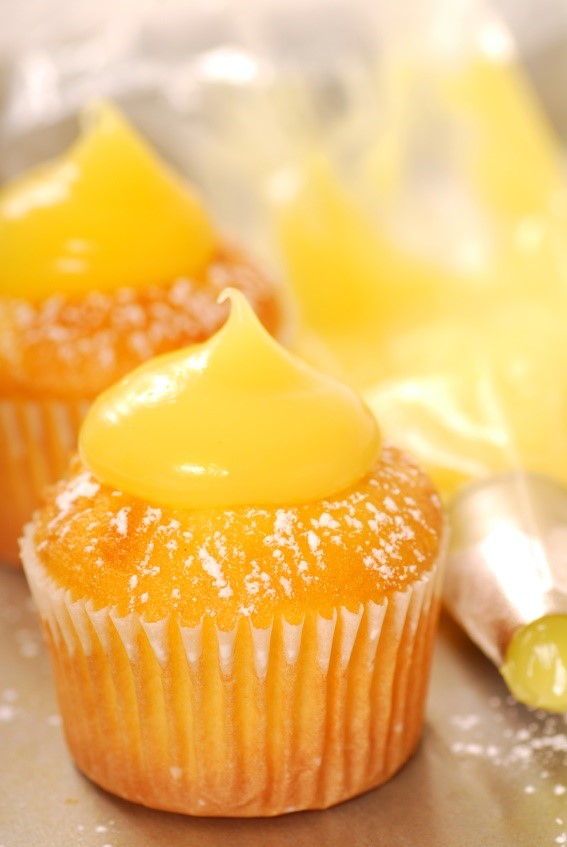 for something which you can not only indulge in but also find refreshing and these cupcakes are perfect for both.
There is nothing better than sitting out in your garden, with your feet up sipping on a cool beverage and enjoying one of my lemon cupcakes with lemon curd.
For all you lemon cupcakes lovers, this is one of those cupcake recipes which is on another level of lemony and I could very easily enjoy an entire batch to myself so the warning label on these should read; 'Caution, may cause addiction'.
Once you start, you just can't stop. So here is my recipe for the most delicious lemon cupcakes with lemon curd…
This is what you will need;
Ingredients for the Cupcakes:
–          125g Plain flour
–          125g Butter at room temperature
–          125g Caster Sugar
–          Zest of one lemon
–          2 Large eggs
–          2 tbsp milk
–          1 tsp baking powder
Ingredients for the Lemon Curd:
–          200g Caster sugar
–          4 unwaxed lemons – zested and juiced
–          100g Unsalted butter in cubes
–          3 free range eggs
–          I egg yolk
Method:
Set your oven to 180C and line a cupcake baking tray with paper muffin or cupcake liners, depending on how large you would like your cupcakes to be. I LOVE lemon cupcakes so I would always have to choose the bigger option.
In a clean, dry bowl add the butter and beat for 5 minutes, until the butter is well creamed and has turned from a yellow colour to a pale cream colour. Once the butter has become fully aerated (after 5 minutes), add in the caster sugar and mix until light and fluffy. Add in the eggs one at a time, ensuring that each egg has been well mixed in before the next addition of egg. Once the eggs have been incorporated into the mixture, add in your milk and lemon zest. Get another bowl and sift in your flour and baking powder and add this dry mixture to your wet, butter mixture a 1/3 at a time ensuring again that each addition of the flour has been taken up by the mixture prior to the next 1/3 of flour. Once all the ingredients are together in one bowl, do not over mix and using a spatula, fold the batter until smooth. Once the texture has become smooth, pour into your cupcake paper liners until they are 2/3 full, this will leave enough space for the cupcakes to rise in the oven.
Set them in the oven for 20 to 25 minutes until they appear golden brown and spring back to the touch. Another way of checking that the cupcakes are cooked fully, is to insert a skewer into the centre of each cupcake and if you can remove it without any batter coming off onto the skewer, then you cupcakes are ready and should be removed from the oven. Once removing them from the oven, leave to stand in their baking tin for 10 minutes and then once the 10 minutes is up, remove them from the baking tin and leave to stand on a wire cooling rack until they are completely cold.
Whilst your cupcakes are cooling, this gives you the perfect amount of time to make your lemon curd topping.
In a clean, dry Pyrex (or heat proof) bowl add in your cubed butter, sugar, lemon zest and juice. Place your heat proof bowl, with your ingredients over the top of a pan of simmering water. Ensure that the bottom of the bowl is not touching the water. Stir your mixture occasionally until the butter has melted. Once the butter has melted, stir the mixture well until all of the ingredients have dissolved.  Whisk your eggs and egg yolk together and fold them into your lemon and butter mixture. Leave to cook for 10 to 15 minutes, until the mixture has thickened and become creamy in texture. To test if the mixture is thick enough, dip in a spoon and if it coats the back on the spoon, your lemon curd is ready. Remove your lemon curd from the simmering water and set aside to cool fully. Make sure that you stir regularly as it is cooling. Once cool, spoon into a piping bag and pipe at will. I like to dust my cupcakes with icing sugar and then pipe on the lemon curd, so they look pretty but it is totally to your taste.
There you have it, my unbelievably delicious lemon cupcakes with lemon curd.
Serve with a cold drink and enjoy!