As I promised in my last post, this is my recipe for Marmite and chocolate cupcakes.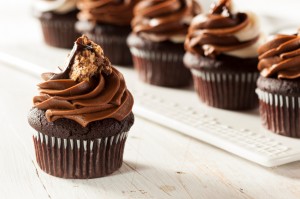 Don't knock it before you have tried it… trust me! I know it sounds crazy, but marmite and chocolate really work together.
I hate marmite, but in these cupcakes I really really enjoy the flavour.
This is what you will need to make 12 of my marmite and chocolate cupcakes;
Ingredients;
Chocolate cupcake base;
–          200g Butter at room temperature
–          200g Caster sugar
–          140g Plain flour
–          60g Cocoa powder
–          4 Free range eggs
–          2 tsp Baking powder
–          Pinch of salt
For the chocolate butter cream;
–          500g Icing Sugar
–          250g Unsalted butter at room temperature
Marmite and chocolate ganache;
–          250ml Double cream
–          Marmite (as much as you can handle)
–          180g Dark chocolate (I like to use 80% cacao as it adds a richer flavour and tends not to split with the cream)
Method
Set your oven to 180C and line your cupcake baking tin with paper cupcake or muffin liners depending on what size you would like your cupcakes. My husband always says; 'the bigger the better' so I like to use muffin liners.
First we are going to start off by making the chocolate cupcake bases. Doing these first will mean that whilst they are cooling, you can make the ganache and the butter cream. This is the perfect way to avoid long waiting times.
In a clean, dry bowl beat your butter until it turns from a yellow colour to a pale cream colour, this means the butter has become fully aerated, this will take approximately 5 minutes. Once this stage is complete add in the sugar and beat until the mixture has become light and fluffy. Add in the eggs one at a time ensuring that each egg has been mixed in well before the next. In a separate bowl add the flour, baking powder, salt and cacao powder. Stir with a spoon and then add this 'dry' mix to the 'wet' butter mixture 1/3 at a time. Once all of your ingredients have been thoroughly mixed in, pour your mixture into the cupcake liners about 2/3 full, this allows enough space for your cupcakes to rise. Set in the oven for 20 to 25 minutes and when they spring back to the touch, they are ready to be removed from the oven. Set aside your freshly baked cupcakes for 10 minutes still in their baking tray. Once the 10 minutes have passed, remove your cupcakes from the baking tin and leave to cool fully on a wire cooling rack.
Whilst these babies are cooling, now is the time to make your chocolate and marmite ganache. In a small sauce pan, place the marmite (completely to your taste) on a low heat until it turns into a liquid. Add in your dark chocolate and continu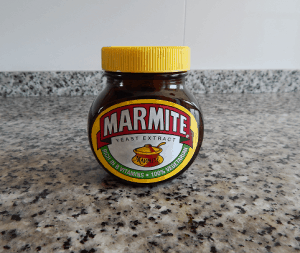 e to stir well as this will melt into your marmite. Then take the saucepan off the heat and leave to the side until it has cooled down fully. Then, once your mixture is cool, add in the cream a little at a time. Once all your cream has been added, set to the side as you will use this in your butter cream icing.
Now it is time for the fun part, in a clean, dry bowl add in your butter and beat for 5 minutes until it has changed from a yellow colour to a pale cream colour, then a spoon at a time, add in the icing sugar. Ensure that you DO NOT use an electric mixer as your icing sugar will end up all over you and your kitchen. Once all the icing sugar has been incorporated, you can use your electric mixer and mix in the marmite and chocolate ganache. I like to leave a little aside to use as decoration on the top of the butter cream. Once your butter cream is ready and your cakes are cold, pipe on your butter cream and I like to drizzle some of the chocolate and marmite ganache over the top.
Hope you have enjoyed my marmite and chocolate cupcakes recipe. Any comments let me know!
Good luck!