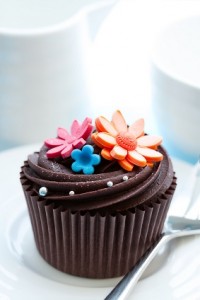 Mexican chocolate cupcakes
So, it is believed that the very first cacao seed was found in Mexico and was spread all around the world in the 16th Century. As cacao originated in Mexico, I thought I would give you a delicious recipe that I discovered whilst travelling in South America. The mixture of flavours is just phenomenal, who would have though that mixing cayenne pepper, nutmeg and cinnamon with chocolate would make the most delicious and tasty cupcakes I have ever eaten and they went down a treat with all my South American friends.
Here it is…
What you will need;
–          175g Plain Flour
–          225g Caster Sugar (you can use white but I prefer to use brown as it gives a slightly different flavour to the cakes)
–          60g Cocoa Powder
–          1 tsp Cinnamon
–          1 tsp Bicarbonate of soda
–          ½ tsp Ground nutmeg
–          1 ½ tsp Vanilla extract (pure)
–          5 tbsp Vegetable oil
–          1 tbsp White wine vinegar
–          250ml Cold water
For the Butter Cream Icing
–          250g Unsalted butter at room temperature
–          500g Icing sugar (you can use golden icing sugar)
–          100g 80% Cacao dark chocolate (broken up into pieces)
–          ½ tsp ground Cayenne pepper
Method
This method is super easy so let's begin. Set the oven to 180C and line a cupcake baking tray with your paper cupcake liners. In a clean, dry bowl, sieve together the flour, cacao, bicarb, cinnamon, sugar and nutmeg into a bowl (this will be known as your dry mixture). In a separate bowl add the vanilla extract, vinegar, cold water, oil and stir well. This will be known as the wet mixture. Now, it is time to add the dry mixture to the wet mixture. Do this a 1/3 at a time and ensure that all of your dry mix has been mixed in well prior to the next 3rd of your dry mix. Once everything has been mixed, then pour evenly into your cupcake liners and place in the oven for around 15 to 20 minutes. Once you can insert a skewer into the cake and remove it without any cake on it, then your cupcakes are ready. Remove them from the oven and leave to stand in the baking tin for 10 minutes. Once the 10 mins is up, remove them from the baking tin and leave to cool fully on a wire cooling rack.
Whilst the cupcakes are cooling, now is the time to make the butter cream. In a clean, dry bowl add the butter and beat for 5 minutes. The colour of the butter should change from a yellow colour to a pale cream colour. Once the colour has changed, then add in the icing sugar and cayenne pepper. Mix well NOT using an electric mixer as your kitchen will turn from its usual colour to a white colour in no time and icing sugar is a murder to clean up. Once all of the icing sugar has been incorporated, you can then use an electric mixer. Melt the chocolate and leave to the side until it has cooled fully.  Once the chocolate has cooled, add to the icing and butter mixture. Once the mixture becomes smooth, then it is ready to pipe on top of your cooled cupcakes.
I like to decorate with some pretty coloured florist paste flowers, however just a sprinkling of nutmeg and cinnamon will make your cakes look divine.
If you would like to learn how to make some florist paste flowers then follow my link below
http://www.jenniferscakes.co.uk/florist-paste/
Enjoy!