Excuse the name – I just couldn't help my self – i've been watching too much 'Moulin Rouge'. Ok so these cupcakes are a mixture of the delicious chocolat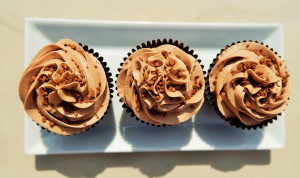 e and coffee flavours. The chocolate and coffee cupcake mixed with the chocolate and coffee butter cream is a delicious combination which goes perfectly with an after dinner coffee or even as a sweet treat when you need a bit of a pick-me-up during your working day. These ingredients are a little different from my normal chocolate cupcakes however, the flavour is divine!
Here is how you make these amazing cupcakes;
This recipe makes 18 cupcakes (12 cupcakes and 6 cupcakes to crumble for the topping)
Ingredients for the cupcakes;
300g Caster Sugar
3 Free Range Organic Eggs
150g Butter (at room temperature)
125ml Espresso or Filter Coffee (must be cold)
Pinch of Salt
125ml Full Fat Milk
300g Plain Flour
1 ½ tsp Baking Powder
60g Cocoa Powder (I like to use over 70% Cocoa)
Ingredients for the Butter Cream;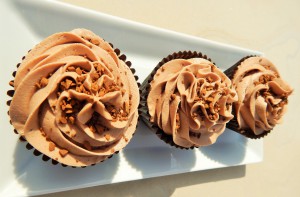 250g Unsalted Butter (at room temperature)
500g Icing Sugar
50g Dark Chocolate (I like to use over 70% cocoa solids)(melted but cold)
5 to 6 tsp Espresso Coffee or Filter Coffee (cold)
Coffee Sprinkles for Decoration
Method;
Set your oven to 180C and line a cupcake baking tin with paper cupcake liners.
In a clean, dry bowl add your butter and beat continuously for 5 minutes.
Add your sugar and beat again until consistency becomes light and fluffy.
Add in your eggs one at a time, ensuring all the egg has been taken up by the mixture before the next addition of egg.
Add in your milk and coffee and mix again.
In a separate bowl, add your flour, salt, baking powder and cocoa, stir with a spoon.
Add your flour mixture to your wet egg mixture 1/3 at a time, ensuring all of the flour mixture has been incorporated before the next addition.
Once all of you ingredients have been added together, spoon your cupcake batter into the paper cupcake liners until they are 2/3 full. This will leave enough space for the cupcakes to rise in the oven without any over spill.
Place your cupcake batter into the oven and leave to bake for 20 mins.
When your cupcakes are ready, they should spring back to the touch or you will be able to insert a skewer into the centre of each cupcakes and remove it clean, without any batter on it.
Once your cupcakes have been removed from the oven, leave to stand in the baking tin for 5 minutes.
Once the 5 minutes is up, remove the cupcakes from the baking tin and leave to sit on a wire cooling rack until completely cold.
Whilst your cupcakes are cooling, now is the time to make your butter cream icing.
In a clean, dry bowl add your butter and beat continuously for 5 minutes.
Once the colour changes from yellow to pale cream, add in your icing sugar 1 tbsp at a time. Ensure that you DO NOT use an electric mixer otherwise the icing sugar will end up everywhere else other than in your butter cream.
Once all of your icing sugar has been added, pour in your cold melted chocolate and stir until completely incorporated.
Now, add your 5 to 6 tbsp espresso coffee or filter coffee (cold) and beat again until it has been taken up by the butter, sugar and chocolate. You may not have to use all of the coffee. As soon as you have achieved the correct consistency, stop adding the coffee.
Now, your butter cream is ready, pipe onto your cupcakes and sprinkle with some coffee flavour decorations.
There you have my delicious 'MochaChocoLatte-Yaya' Cupcakes. They are so delicious you will want more than one at a time.
If you have enjoyed this recipe, don't forget to share!!