Yesterday was Mother's Day, a day where we take some time out from our busy schedules and celebrate the person who (with our fathers) brought us into the world. I spent the day with my mother, father, grandmother and cousins who only recently lost their mother. I thought it would be a great idea to whip up some delicious  and the liqueur happens to be my mums favourite tipple so I thought it was quite apt to make these for her on her special day.
Here is how you make my mummy's favourite 'Chocolate Cupcakes with Cointreau Butter Cream'
Ingredients for the Cakes;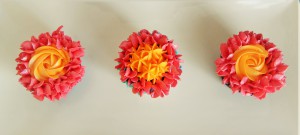 200g Butter (at room temperature)
200g Sugar
140g Plain Flour
60g Cocoa Powder (I prefer to use over 70% cocoa solids)
4 Free Range Organic Eggs
Pinch of Salt
1 ½ tsp Baking Powder
Ingredients for the Butter Cream;
500g Icing Sugar
250g Unsalted Butter (at room temperature)
4 tbsp Cointreau Liqueur
Gel food colourings (whatever colour you fancy)
Method;
Set your oven to 180C and line a cupcake baking tray with paper cupcake liners.
In a clean, dry bowl add your butter and beat continuously until it turns from a yellow colour to a pale cream colour.
Once the colour change occurs, add your sugar and beat again.
Add your eggs one at a time ensuring that each egg has been incorporated before the next addition of egg.
After all of your eggs have been taken up, get a separate bowl and add your flour, cocoa powder, baking powder and salt and stir with a spoon.
Add your dry ingredients to your wet egg mixture 1/3 at a time, stirring well between each addition.
Once all of your ingredients have been added together, spoon your cupcake batter into the paper cupcake liners until they are 2/3 full. This will leave enough space for your cupcakes to rise in the oven without any over spill.
Place your cupcake batter into the oven and leave to bake for 20 minutes. Once these 20 minutes are up and your cupcakes spring back to the touch, remove them from the oven and leave to cool in the cupcake baking tray for 5 minutes.
Once those 5 minutes are up, remove them from the cupcake baking tray and leave to stand on a wire cooling rack to cool fully.
Now is the perfect time to whip up your butter cream
In a clean, dry bowl add your butter and beat continuously for 5 minutes, like the first stage of the cupcake making process.
Once your butter turns from a yellow colour to a pale cream colour, add your icing sugar a tablespoon at a time. Do NOT use an electric mixer as the icing sugar will end up all over yourself and your kitchen surfaces instead of in your butter cream.
Once all of your icing sugar has been added to the butter, add your Cointreau Liqueur slowly as your mix your butter cream. If it does not reach the correct consistency of butter cream, add in more Cointreau until the butter cream becomes the correct texture.
Add in whatever colour you would like for your butter cream and pipe onto your cold cupcake bases.
I have chosen to opt for an orange/yellow butter cream and a pink butter cream as I wanted these cupcakes to look like flowers for my mother on mother's day.
Hope you have enjoyed this recipe and if you have any questions please do not hesitate to let me know.
Enjoy and Happy Mother's Day!