It is always fun, when you are having a party, dinner party, kids party or simply a small get together that you enjoy cake. What if your guests didn't know the flavours of your cakes but you did. You can turn the enjoyment of eating cake into a 'what went i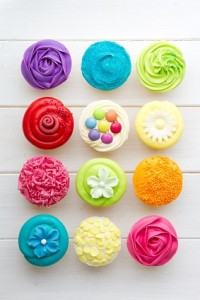 nto this' game. It is always a great laugh and usually results in the most abstract ideas which are sometimes correct.
In order to make the game more fun, you can even blind fold your guests so they cannot see the pieces of fruit or vegetables in the cupcakes. The idea is to make the idea of dessert fun and delicious so this is how you do it…
This is how you make them;
– 350g Plain flour
– 2 tsp baking powder
– 1 tsp Bicarbonate of soda
– 2 tsp Ground cinnamon
– 3 Large organic free range eggs
– Pinch of salt
– 1 tsp Ground ginger
– 230g light muscovado sugar
– 120ml Sunflower oil
– 80ml whole milk
– 300g pre prepared fruit or vegetables, depending on what flavours you would like to make. Choose your fruit and veg from the selection below;
 Blueberries
 Parsnip (peeled and grated)
 Carrot (peeled and grated)
 Courgette (roughly grated with the excess moisture removed)
 Apple (skinned, cored and grated)
 Banana (pealed and roughly chopped)
For the butter cream;
– 500g Icing Sugar
– 250g Unsalted butter at room temperature
– 2 tsp Pure vanilla extract
– 5 tbsp Milk
– Natural gel food colouring which you can find in any bakery supply shops. Do not use the liquid food colourings as these can affect the structure of the butter cream and can make it runnier than it should be. Additionally, the gel food colourings create a much clearer colour then the liquid supermarket colours.
Method;
Set the oven to 180C and line a cupcake baking tin with paper liners, you can also use foil cupcake liners as this holds in the moisture throughout the baking stage and once the cupcakes have been left to stand.
In a clean, dry bowl add the oil, milk and sugar ensure these have been well mixed, add in the eggs one at a time, ensuring that each egg has been well beaten before the next addition. In a separate bowl. Add the flour, baking powder, bicarbonate of soda, cinnamon, ginger and salt.
Prepare the fruit or vegetables that you would like to use. I like to make one batch of cupcake batter and divide it into 3 exact measures and then divide the amount of fruit and veg so that I get three different kinds of cupcake flavours. This is great if you are having a party and want to surprise your guests with a game of 'what is in that cupcake'.
Once your fruit and veg have been prepared, ensure that it is well dried so that you avoid soggy cakes. As I said previously I like to divide my cupcake mix into three and use three different fruit and veg so once you have divided up your mixture, pour the fruit or veg into the oil part of your batter and then add the flour mixture into your oil mixture. Beat well, however do not over mix as this will lose all of the air bubbles that you need for your cakes to rise. Using a spatula, fold the mixture and then pour into your cupcake batter into your cupcake liners until they are 2/3rd full. This will leave enough space for the cupcakes to rise in the oven. Place your cupcakes in the oven for 20 minutes. Once you can place a skewer into the middle of the cupcake and remove it clean without any batter on it, then your cupcakes are ready and can be removed from the oven.
Leave to stand in their baking tin for 10 minutes and then remove them from the tin and leave to stand on a wire cooling rack until the cupcakes are completely cold. This will leave a perfect amount of time for you to make the vanilla butter cream.
In a clean, dry bowl add the unsalted butter and beat well until the colour of the butter turns from a yellow colour to a pale cream colour. This colour change usually takes around 5 minutes, this ensures that the butter has been fully aerated. Using a spoon, add in the butter cream and DO NOT use an electric mixer as you will find the icing sugar all over the kitchen instead of in your butter cream. Once the icing has been well incorporated into your butter, then you can use an electric mixture. The consistency of the mixture may be quite stiff so at this point it is time to add in the vanilla extract and the milk. This addition will make the butter cream the perfect consistency to pipe onto your cupcakes. Using the gel food colouring, add in your desired colours. I like to use a different colour for each flavour. Additionally, I like to use a completely different colour to the colour corresponding to the fruit or vegetable in the cupcake. For example, if the cupcake is carrot, I like to use a pink or blue colour, not an orange for the butter cream, this makes the game more exciting.
Once you have coloured the butter cream, pipe it onto your cupcakes and I like to decorate with either butter cream flowers or smarties or anyway you would like to decorate them.
These are a great ice breaker for a party and are an amazing way to get your guests all working together. If you have any questions please do not hesitate to contact me.
Good Luck !