I know it's a crazy idea to have a flavour like Red Bull in a cupcake, but it really works. Red bull is commonly known as a stimulant drink, which young adults get obsessed with when they have a late night and an early morning. University students also like to drink red bull to keep them going on a night out. Recently there was a law s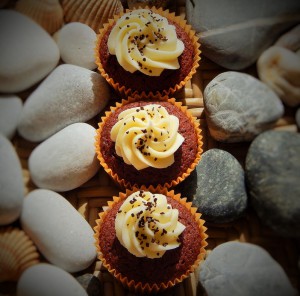 uit against red bull for not doing as it 'says on the tin,' it does not in fact 'give you wings'. With one taste of my red bull cupcakes, not only do they become addictive, but you will also want to share them with anyone and everyone! These cupcakes may not give you real wings, but they will definitely make your day more enjoyable!
Here is how you make my delicious Red Bull cupcakes with Vanilla Butter Cream
Ingredients for the Cupcakes:
300g Caster Sugar
170g Butter (at room temperature)
250g Plain Flour
3 Free Range Organic Eggs
1 tsp Pure Vanilla Extract (NOT ESSENCE)
Pinch of Salt
1 tsp Bicarbonate of Soda
1 tsp Baking Powder
80ml Milk
200ml Red Bull Energy Drink (with Sugar)
1 tsp Red Food Colouring Gel
Ingredients for the Butter Cream:
500g Icing Sugar
250g Unsalted Butter (at room temperature)
1 ½ tsp Pure Vanilla Extract
6 tbsp Milk
Set the oven to 180C and line a cupcake baking tray with muffin or cupcake paper liners. I like to use muffin paper liners as they are just a little bit bigger than their cupcake liner cousins.
In a bowl add in your butter and beat continuously, until the colour of the butter has changed from a yellow colour to a pale cream colour. This first step should take approximately 5 minutes.
Once the colour change has appeared, add in your caster sugar and beat again until the mixture has become light and fluffy.
Once all of the sugar has been well incorporated, add in the eggs one at a time, ensuring that each egg has been fully mixed in, before the next addition of egg.
Add in the milk, vanilla extract and red food colouring gel and stir well.
Now, get a separate bowl and add your flour, salt, bicarb and baking powder and stir with a spoon.
Add this flour mix to your wet egg mixture 1/3 at a time, ensuring that all of the flour has been well incorporated prior to the next 3rd being added.
Once all of the ingredients are mixed together, take your red bull and pour in ½. Fold it well into your cupcake batter, once it has been well mixed in, add the second ½ and repeat.
Now all of your ingredients have been added together, spoon your cupcake batter into your paper liners until they are 2/3 full, this will ensure that they have enough room to rise in the oven without any over spill.
Place your cupcakes into the oven and leave for 15 to 20 minutes.
There are various different methods of testing your cupcakes to see if they are ready or not.

One is by pressing gently on the centre of your cupcakes, if it springs back to the touch, then your cupcake is ready.
Another way of testing if the cupcake is ready or not, is by inserting a skewer into the centre of the cupcakes and if you can remove it without any cupcake batter on the skewer, then your cupcakes are ready.

Once your cupcakes have been fully baked, remove them from the oven and leave to stand for 10 minutes in the baking tin.
Once the 10 minutes is over, remove them from the baking tin and leave to stand on a wire cooling rack, until they are fully cooled.
This will leave you the perfect amount of time to make the butter cream icing.
In a clean, dry bowl add in your butter and beat for 5 minutes, until the butter changes colour from a yellow colour to a pale cream colour. Once this colour change has occurred, this means that the butter has become fully aerated and is ready for the next step.
Slowly, add in your icing sugar 1/3 at a time and mix both the butter and icing sugar well DO NOT USE AN ELECTRIC MIXER as you icing sugar will end up everywhere other than in your butter cream.
Once all of your icing sugar has been added to your butter, the mixture will fell a little tough and too thick to stir, add in your vanilla extract and mix again.
Add in your milk and mix well. Now you can use your electric mixer.
Pipe your butter cream onto your cupcakes and I like to sprinkle with chocolate flakes for decoration.
There you have it, my simple recipe for Red bull Cupcakes with Vanilla Butter Cream.
Hope you have enjoyed this recipe and if you have any questions or suggestions please either email me or leave a comment in the box bellow.
Don't forget to share!!
Happy Baking