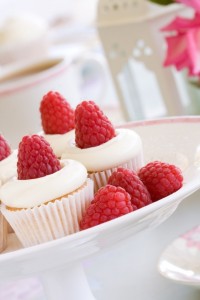 Have you just got back from your summer holidays and are looking for a treat which not only tickles your taste-buds, but also makes you feel like you are lying on the beach, sunning yourself without a care in the world? Well, these Rock Star epic cupcakes are exactly what you need. The mix of the smooth vodka with the crisp flavour of the raspberries is a delight to the taste and also goes very well with a cocktail in your back garden.
This is what you will need for my 'Rock Star Epic Vodka and Raspberry Cupcakes'
Ingredients for the cupcakes;
–          200g Butter (at room temperature)
–          200g Caster Sugar
–          4 Free Range Eggs
–          1 ½ tsp Raspberry extract
–          200g Plain Flour
–          1 ½ tsp Bicarbonate of Soda
–          1 tsp Baking Powder
–          Pinch of Salt
–          30 ml vodka (not too much as the alcohol will burn off during the baking process)
Ingredients for the Raspberry Syrup;
–          1 Punnet of Raspberries (approx. 250g)
–          100g Sugar
–          1 ½ tbsp. Vodka
For Vanilla Vodka Butter Cream
–          500g Icing Sugar
–          250g Unsalted Butter (at room temperature)
–          6 tbsp Vodka
–          1 ½ tsp Pure Vanilla Extract
Method
Set your oven to 180C and line a cupcake or muffin baking tin with paper liners. In a clean dry bowl, add you butter and beat for approximately 5 minutes. I know this seems like a long time but the butter needs to be fully aerated. Once the butter is ready, it should turn from a yellow colour to a pale cream colour. Now add in your caster sugar and beat again until all of the sugar has been taken up by the butter. Add in your eggs one at a time, ensuring that each egg has been mixed in well before the next addition of egg. Add your raspberry extract into your butter, sugar and egg mixture and set to the side. In a separate bowl add your flour, bicarbonate of soda, baking powder and salt and stir well. Then, take your dry ingredients and add this to your wet ingredients 1/3 at a time ensuring that each addition of the dry mix is well incorporated. Once everything has been mixed together, add in the vodka until the mixture has become smooth. Now it is time to spoon your cupcake batter into the paper liners. The cupcake batter should fill the liner until it is approximately 2/3 full. This leaves enough space for the cupcakes to rise in the oven without any overspill. Place the cupcakes in the oven until they bounce back to the touch or you can insert a skewer into the centre of the cupcake and remove it clean, without any batter on the skewer. The baking process should take around 20 to 25 minutes. Once the cupcakes are ready, remove them from the oven and leave to cool for 10 minutes in their baking tin. Once the 10 minutes is up, remove the cupcakes from the baking tin and leave to cool on a wire cooling rack.
Whilst the cupcakes are cooling, now would be the perfect opportunity to create the raspberry and vodka syrup. In a small pan place your raspberries, vodka and sugar and mix continuously until the raspberries have disintegrated and the sugar has melted. Once you have a syrupy mixture, go over to your cupcakes and using a skewer, pierce the cupcakes all over and drizzle your raspberry syrup all over the top and leave to dry and cool again.
Whilst the syruped cupcakes are drying and cooling, now it's time to make the vodka and vanilla butter cream icing. So, in a clean, dry bowl add your butter and beat for 5 minutes, it is the same process as before when making the cake batter, once your butter is ready, it should turn from a yellow colour to a pale cream colour. After 5 minutes, add in the icing sugar a spoon at a time and mix well with each addition of icing sugar. This may take a slightly longer amount of time and you may be thinking… 'How can I make my life easier- let's use an electric mixer' if this thought pops into your head, then DO NOT ACT on it as your icing sugar will end up all over you and your clean kitchen. Once all the icing sugar has been taken up by the butter, then you can use an electric mixer, but not before hand. Once you have achieved a thick consistency which is hard to mix, then now is the time to add your vanilla extract and your 6 tbsp vodka, this should thin out your icing mix and make it extremely alcoholic so don't eat too many at once. If your butter cream does not taste as alcoholic as it should, then make sure you add in more vodka to taste. If you have achieved the correct taste, but your butter cream is too loose, then you can always add in more icing sugar.
Now your butter cream is ready, pipe onto your raspberry vodka cupcakes and finish with a raspberry and hay presto you have my 'Rockstar Epic Vodka and Raspberry Cupcakes'
Enjoy!