Autumn is officially here and as some mums and dads, like to get prepared I thought we would have a look at by far, one of my favou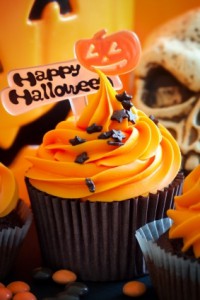 rite flavours of cupcake.
As we near the end of October, all children (and their parents) get excited about Halloween. Halloween is a Celtic holiday, which marks the end of the harvest and the beginning of the winter.
The Celts additionally believed that the transition between the seasons was also a bridge to the worlds of the dead.
The Halloween that we all know and love today is celebrated very differently now, with dressing up and ample candy.
I wanted to find something different to hand out at the door this year for the many 'trick or treaters' that pass by my front door, so I devised a pumpkin cupcake which are easy to grab and give, when someone comes a'knocking.
This is how you make my spiced pumpkin cupcakes;
Ingredients;
280g Plain Flour
180g Butter at room temperature
200g Caster sugar
5 tbsp Brown soft sugar
2 Free range organic eggs
½ tsp Salt
180ml Milk
250g Pumpkin cooked and pureed
1 tsp Ground cinnamon
½ tsp Bicarbonate of soda
1 tbsp Baking powder
½ tsp Ground all spice
½ tsp Ground cloves
½ tsp Ground ginger
½ tsp Ground nutmeg
For the Cream Cheese Icing
500g Caster sugar
150g Philadelphia cream cheese
1 tsp Vanilla extract
Method;
Set you oven to 180C and line a cupcake baking tin with paper cupcake liners. You can also use foil cupcake liners as these will prevent the cupcakes from drying out over a long period of time.
In a clean, dry bowl sift together your flour, cinnamon, ginger, cloves, nutmeg, salt, bicarbonate of soda, baking powder and all spice. Stir well with a spoon and leave to one side. In a separate bowl, add in the butter and beat for 5 minutes until the colour of the butter has turned from a yellow colour to a pale cream colour. Once the butter has become fully aerated, add in the caster sugar and the brown sugar and beat again until the consistency has become light and fluffy. Now, add in the eggs one at a time, ensuring that each egg has been well incorporated before the next addition of egg.  Add the milk and pumpkin puree to the butter and sugar and mix well. Once all the pumpkin has been added, 1/3 at a time, add in the dry flour and spice mix. Ensure that you fold all of the ingredients well before adding in the next 1/3.
Now, pour your cupcake batter into your paper cupcake liners and set in the oven for 15 to 20 minutes. You will be able to tell if they are ready by their golden brown appearance or using a skewer, insert it into the centre of each of the cupcakes and if you can remove it without any cupcake batter on it, then your cupcakes are ready and can be removed from the oven. Another way of checking is by carefully pressing lightly on the centre of each cupcake and if it springs back to the touch then they are ready to go.
Once your cupcakes have been removed from the oven, leave them to cool in their baking tray for 10 minutes, then remove them completely and leave to stand on a wire cooling rack until they are cold.
Now for the cream cheese icing. Place your cream cheese in a clean dry bowl and beat until the texture becomes smooth and creamy, then add in your icing sugar and mix well until smooth. Add in your vanilla extract and hay presto, you have a cream cheese icing. I like to colour mine orange to make the cupcakes look more like Halloween cupcakes, decorate with 'Happy Halloween' cupcake toppers and there you go… ready to serve Halloween treats.
Hope you have enjoyed this recipe and if you have any questions, please do not hesitate to contact me. You know where to find me!