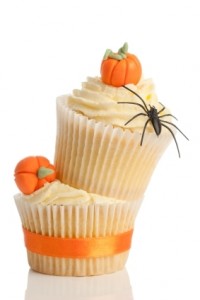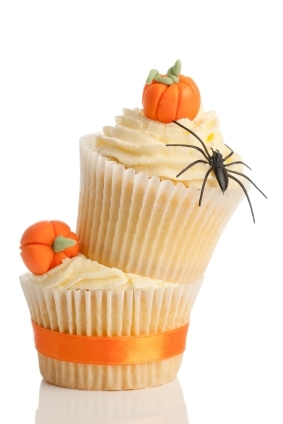 Between the months of October and January, Starbucks introduce their infamous 'Pumpkin Spiced Latte'. This delicious coffee incorporates a variety of flavours which include; Pumpkin, Pumpkin Pie Spices, Cream, Coffee and Milk. This incredible mixture is just a delight on the taste-buds. When I first came across the 'Spiced Pumpkin Latte' I was a little concerned as I am not the biggest fan of Pumpkin, however when tasting this concoction, I was pleasantly surprised. The cream, the coffee, the pumpkin spices are all a delightful treat on the tongue. So after much thought, (as I always do when I come across amazing flavours) I have decided to make it into a cupcake! I thought it would be best to release this recipe at the perfect time of Halloween, when families are looking for some pumpkin treats to enjoy over this festive period.
Here is my recipe for 'Spiced Pumpkin Latte Cupcakes'.
Ingredients
200g Plain Flour
200g Butter (at room temperature)
200g Brown Caster Sugar
3 Organic Free Range Eggs
230g Pumpkin Puree
Pinch of Salt
1 tsp Bicarbonate of Soda
1 tsp Baking Powder
6g Espresso Powder
1 tsp Cinnamon
1 tsp Nutmeg
1 tsp Ground Cloves
Cupcake Icing
500ml Whipping cream
100g Icing Sugar
Method
Set the oven to 180C and line a cupcake baking tray with paper cupcake liners.
In a bowl, add your butter and beat until you see a colour change from yellow to pale cream. This should take around 5 minutes of continuous beating.
Once the colour change occurs, add in the brown caster sugar and beat again until the texture becomes light and fluffy.
Add in your eggs one at a time, ensuring that each egg is well mixed in before the next addition of egg.
Once you have added all of your eggs, add in your pumpkin puree and mix again.
In a separate bowl add your; flour, salt, bicarbonate of soda, baking powder, cinnamon, nutmeg, cloves and espresso powder. Using a spoon, mix well until all ingredients are combined.
Now, add the flour mixture to the pumpkin mixture and mix the batter until it becomes smooth.
Now, spoon the batter into your cupcake liners until they are 2/3 full, this will leave enough room for the cupcakes to rise in the oven.
Leave your cupcakes to bake for 15 to 20 minutes, until golden brown.
One way to test if your cupcakes are ready, is to apply a small amount of pressure to the centres of your cupcakes and if they spring back to the touch, then they are ready.
Another way to see if your cupcakes are ready is by inserting a skewer into the centre of each cupcake and if you can remove it without any batter coming off onto the skewer, then your cupcakes are ready.
Once your cupcakes have been fully baked, then remove them from the oven and leave them in the baking tray for 10 minutes.
Once the 10 minutes is up, remove them from their baking tin and leave to stand on a wire cooling rack until completely cold.
Now is the perfect time to make the icing so, in a clean, dry bowl add your whipping cream and whizz with an electric mixer.
After a couple of minutes, add in your icing sugar a spoon at a time and fold it into your whipping cream, using a spatula.
Once all of your icing sugar has been folded in, use your electric mixer again and whizz up the mixer until all of the icing sugar has been incorporated.
Now, pipe your mixture on top of your cupcakes and I like to add a spider cake topper and a sugar paste pumpkin as it is in keeping with Halloween!
There they are … My 'Spiced Pumpkin Latte Cupcakes with Whipped Cream Icing'.
Hope you have enjoyed this recipe and keep watching the recipes as we have a whole range of new and innovative ideas coming your way.
If you have enjoyed this recipe, please remember to share!!
Lots of love!