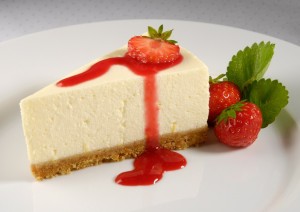 Jennifer's Cakes is introducing a new cheesecake range to our cake portfolio. When opting for a cheesecake I like to always go either fruity or chocolaty.
This recipe is totally fruity as there is nothing better than the classic strawberry cheesecake.

This is what you will need;
–          250g Digestive biscuits (I prefer to use Hob nobs without the chocolate as it offers more crunch and texture to the base of the cheesecake)
–          1 Vanilla pod (If you cannot find these, then 2 tsp of pure vanilla extract will work)
–          100g Melted butter
–          285ml Pot of double cream
–          600g Philadelphia full fat cream cheese
–           150g Icing sugar
Strawberry drizzle
–          400g strawberries
–          30g Icing sugar
Method;
Making the base:
Normally, I like to use a 23cm loose bottom baking tin which serves 12 slices. Grease your baking tin with some grease spray or just butter it up and line it with parchment paper. Place your hob nobs or digestive biscuits in a plastic, zip-lock freezer bag and seal. Using the 'Whacking' technique, crush your biscuits into crumbs (as fine as they can go). Once you have achieved the correct consistency, pour your crumbs into a bowl and pour over your melted butter. Mix well, once all of the crumbs are well coated in the melted butter, pour them into your lined baking tin and press down and up the sides to ensure an even coverage of your baking tin. Place in the fridge to set for a minimum of an hour. This gives you the perfect amount of time to create the filling for your cheesecake.
Making the cheesecake;
If you are using a vanilla pod, peal it open and remove the seed, if you are not using a vanilla pod, use 2 tsp of vanilla extract. Place your Philadelphia cream cheese into a clean dry bowl, add your vanilla seeds or vanilla extract and your 150g icing sugar. Beat with an electric mixture until the texture becomes smooth and every ingredient has been incorporated. Now it is time for you to add your double cream, mix in well and there you have it, your cheese cake filling.
Remove the base from the fridge and pour your filling into the tin, on top of your set biscuit crumbs. Smooth the surface of your cheese cake with the back of a dessert spoon, working from the outside in. Ensure there are no air bubbles. Leave the cake to set in the fridge overnight.
Leave your cheese cake in the fridge until around an hour before serving. Bring your cheesecake to room temperature around 30 mins before serving and remove it from the tin by placing it on of a smaller object and pull the sides down, releasing the cake. Slide your cheesecake onto a serving plate and remove the parchment baking paper. Now it is time to decorate and make your strawberry drizzle. Pour your strawberries into a food processor (saving a handful for decoration). Blend your strawberries and add your 30g icing sugar and 1tsp water. Mix well and pour liberally over your cheesecake. Chop your handful of strawberries and scatter over the top of your cheesecake and serve. Hope you have enjoyed my easy peasy strawberry cheesecake recipe. If you have any questions please do not hesitate to contact me.