Well, it is officially summer and why not celebrate with a delicious 'Summer Fruit Cupcake?' Sitting in the garden with the sprinklers on, lying back with a refreshing beverage and one of these cupcakes will make you feel like you're officially on holiday. Remember, as there is currently a heatwave, to keep these cupcakes in the fridge to prevent the icing from melting.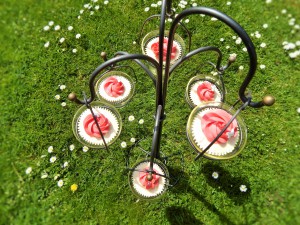 Here is how you make my delicious summer treats:
Ingredients:
200g Caster Sugar
200g Plain Flour
4 Free Range Organic Eggs
200g Butter (at room temperature)
Zest of 1 Lemon (half for the cupcakes and half for the butter cream)
1 ½ tsp Baking Powder
Pinch of Salt
100g Summer Fruit Jam (seedless)
1 ½ tsp Pure Vanilla Extract
Ingredients for the Butter Cream
500g Icing Sugar
250g Unsalted Butter (at room temperature)
1 ½ tsp Pure Vanilla Extract
1 tsp Raspberry Essence
1 tsp Cherry Essence
4 tsp Milk
Method
Set your oven to 180C and line a cupcake baking tray with paper cupcake liners.
In a clean, dry bowl add your butter and beat continuously for 5 minutes until the colour changes from a yellow colour to a pale cream colour.
Once this colour change occurs, add your caster sugar and beat again until the texture becomes light and fluffy.
Now, add in your eggs one at a time, ensuring that they have been taken up by the butter and sugar mixture. If it begins to split, do not worry, it will all come together in the end.
Add in half the lemon zest and mix again.
Now, add in your flour, baking powder and salt.
Once all of your ingredients have been mixed together (minus the jam) spoon the mixture into the paper cupcake liners until they are 2/3 full.
Place your cupcake batter into the oven and bake for 20 minutes.
Once your cupcakes are ready, they should spring back to the touch or you should be able to insert a skewer into the centre of each cupcake and remove it clean.
Remove your cupcakes from the oven and leave to cool in their baking tray for 5 minutes.
Once the 5 minutes is up, remove the cupcakes from their baking tray and leave to stand on a wire cooling rack to cool fully.
Once your cupcakes are completely cold, using a teaspoon spoon out the centre of each cupcake leaving a small bowl shape in the middle of each cupcake. Leave the cut out pieces of cake to the side.
Take your jam and place in a piping bag, pipe into the centre of your cupcakes and place the small lids back on top and press down.
Now is the perfect time whip up your butter cream.
In a clean, dry bowl add your butter and beat continuously for 5 minutes until the colour change occurs.
Now, add in your icing sugar a tablespoon at a time, do not add your icing sugar too quickly as it will end up everywhere else, other than in your butter cream.
Once you have added all of your icing sugar, the mixture will be quite tough.
Add in your cherry essence, raspberry essence, vanilla extract and mix well.
Add in the rest of the lemon zest and stir into the butter cream.
If your butter cream is still too tough, add in the milk 1 tsp at a time, until it reaches the correct consistency.
If you would like to add gel food colouring and edible decorations, then now would be the time to do it.
Pipe your butter cream onto your cupcakes and serve. I presented these cupcakes in a cupcake tree as it was for a birthday party, so wanted them to look unbelievable and I think I did a pretty good job!
If you have enjoyed this recipe, please do not forget to share….
Lots of love
Jennifer
xxxx