Jennifer's Cakes was asked a few weeks ago to create some alcoholic cupcakes for a client w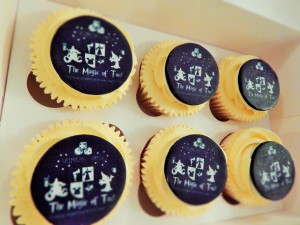 ho was going on a Stag weekend away. I absolutely love working with hen and stags as they are always looking for something over and above a normal cupcake.  My instructions were to make these cupcakes as alcoholic as possible. With that said, putting too much liquid into a cake can usually end up a total disaster, so my idea was to not only put a little tequila into the cupcake batter and butter cream, I also had the idea to somehow incorporating some alcoholic jelly into the structure of the cupcakes and so I ended up with super alcoholic cupcakes which contained 1 to 2 shots of tequila in each. Needless to say, they were very happy with my little creations. Here is how you make my delicious super alcoholic tequila and lime cupcakes…
Ingredients for the Cupcakes
200g Plain Flour
200g Unsalted Butter (at room temperature)
200g Caster Sugar
4 Free-range Organic Eggs
2 tsp Pure Vanilla Extract
Pinch of Salt
1 tsp Bicarbonate of Soda
1 tsp Baking Powder
4 tbsp Tequila
2 tbsp freshly squeezed lime juice.
Ingredients for the Tequila Jelly
If you really do not feel up to making your own jelly and would like a simpler way, then grab yourself some 'Harley's' jelly cubes and instead of added 250 ml of water to the mixture, add 10ml of holt water to help melt the cubes and then substitute the rest of the water for tequila. I like to use the lime jelly cubes as they really give the flavour of a margarita cocktail.
Ingredients for the Butter Cream
250g Butter (at room temperature)
500g Icing Sugar
4tbsp Tequila
1tsp Lime Juice
The zest of 1 Lime
Method
Set the oven to 180C and line a cupcakes baking try with paper cupcake liners.
In a clean, dry bowl add your butter and beat continuously for 5 minutes.
After you have beaten the butter, it should change colour from a yellow colour to a pale cream colour. Once this colour change occurs, add in the sugar.
Beat the sugar and butter together until light and fluffy.
Now, add in the eggs one at a time, until all have been incorporated. Do not worry if the mixture begins to curdle, it will all come together in the end.
Once the eggs have been added, in a separate bowl, add your flour, bicarb, baking powder, salt and mix well with a spoon.
Now, add your flour mixture to your wet egg mixture, 1/3 at a time, ensuring each addition is mixed in well.
Once all the dry mix has been added to the wet mixture, add in the tequila and lime juice and mix again.
Now your cupcake batter is ready, spoon it into your paper cupcakes liners, until they are 2/3 full.
Place in the oven to bake for 15 to 20 mins or until you can insert a skewer into the centre of each cupcake and be able to remove it clean.
Once your cupcakes are ready, remove them from the oven and leave to cool fully on a wire cooling rack.
Now, make up the jelly in accordance to the instructions on the packet and the instructions above and leave to set.
Whilst the cupcakes are cooling and the jelly is setting, we can whip up the butter cream.
In a clean, dry bowl add the butter and beat continuously until the colour changes from yellow to pale cream colour.
Now, add in your icing sugar 1 tbsp at a time, to ensure that it goes into the icing and not all over the kitchen.
Once all of your icing sugar has been added to the butter, it may feel very stiff. Add in your tequila, lime juice and lime zest and beat again until smooth.
Now, your butter cream is ready, set to the side and go over to your alcoholic jelly.
Using a cutter which is slightly smaller than the top of your cupcakes, cut out circles of your jelly.
Carefully, place the jelly onto the tops of the cupcakes and pipe your icing on top of that.
Decorate your cupcakes and enjoy.
If you have liked this article, then please do not forget to share…
Lots of love and merry Christmas!
Love,
Jennifer
xxx