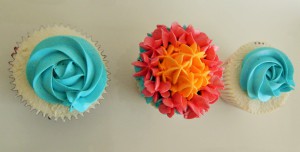 There is nothing more delicious than the mixture of creamy vanilla and crisp, sweet blueberries rolled into a cupcake. As we say goodbye to the summer and say hello to the autumn, it is time for us to add some earthiness into our cupcakes and using blueberries is the ideal addition.
Here is how you make these scrumptious cupcakes;
Ingredients for the Cake;
200g Unsalted Butter (at room temperature)
200g Plain Flour
150g Caster Sugar
50g Demerara Sugar
1 ½ tsp Pure Vanilla Extract
2 tsp Baking Powder
1 tsp Bicarbonate of Soda
4 Medium Free-Range Organic Eggs
Pinch of Salt
Ingredients for the Butter Cream Icing;
500g Icing Sugar
250g Unsalted Butter (at room temperature)
100g Blueberries (fresh)
4 tbsp Blueberry Puree (will show you how to make the puree in a second)
1 tsp Milk
3 tsp Lemon Juice
2 tsp Caster Sugar
Method;
Set your oven to 180C and line a cupcake baking tray with paper cupcake liners.
In a pan, place your fresh blueberries with the 3 tsp lemon juice as well as the 2 tsp caster sugar and bring to the boil. Once the mixture begins to boil, bring the blueberry mix down to a simmer for 5 mins. After the 10 minutes, remove the blueberries from the heat and leave to cool in the pan. Once completely cold, strain through a sieve and leave the blueberry puree to one side, to use in the butter cream.
Right, on to the cakes. In a clean, dry bowl add your butter and beat continuously for 5 minutes, until the colour changes from a yellow to a pale cream colour.
Once this colour change occurs, this means your butter is fully aerated and ready for both types of sugar to be added.
Mix in the sugar and beat until the texture becomes light and fluffy.
Now, add in the eggs one at a time, ensuring each egg has been well incorporated into the mixture before the next addition of egg.
Once all of your eggs have been added, pour in the vanilla extract and stir again.
Now, in a separate bowl, add your flour, baking powder, bicarbonate of soda and pinch of salt, stir with a spoon.
Now, add your dry flour mixture to your wet egg mixture, 1/3 at a time. Do not over mix.
Once all of the ingredients have been added together, pour the cupcake batter into the paper cupcake liners until they are 2/3 full.
Place the cupcakes in the oven and leave to bake for 15 to 20 minutes.
Once your cupcakes are ready you should be able to insert a skewer into the centre of each cupcake and remove it clean.
Remove your cupcakes from the oven and leave to cool in their baking tray for 5 minutes.
Now, remove the cupcakes from the baking tray and leave to cool fully on a wire cooling rack.
Whilst your cupcakes are cooling, now it is time to make the butter cream.
In a clean, dry bowl add your butter and beat continuously for 5 minutes until the butter changes from a yellow colour to a pale cream colour.
Once the colour change occurs, add in the icing sugar one spoon at a time. Have patience with this process as if you add the icing sugar too quickly, it will end up all over your kitchen and everywhere other than in your butter cream.
Now, add in your blueberry puree, one tablespoon at a time.
After you have added the 4 tablespoons of puree, add in 1 tablespoon of milk and mix.
If your butter cream is too thick, then add in another tablespoon of milk, until your butter cream has reached the correct consistency.
Pipe your butter cream onto your cupcakes and serves.
Hope you have enjoyed this recipe, please don't forget to share!!
Lots of Love,
Jennifer
xxxx