Whist travelling through the Andes, one staple that you always find throughout Peru in every bakery is Ciabatta rolls. I know it's crazy to find an Italian delicacy all the way in Peru, however it seems to be a common theme here. It is always delicious and a no-brainer when you want to buy bread.
Here is my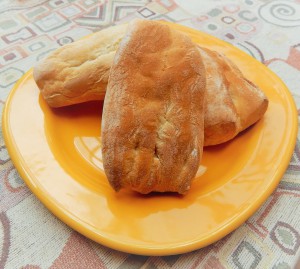 delicious recipe for ciabatta.
This is what you will need:
400g Strong, White Flour and a little extra for flouring
7g Salt
300ml Water
7g Yeast
35ml Olive Oil Plus a little extra to oil the dough
Semolina Flour
Method:
To begin with, separate the yeast into 4g and 3g. Using half the amount of flour, add your 4g of yeast and half of the water into a clean, dry bowl. Using a spatula, beat your mixture together until it forms a thick batter consistency.
Using your extra olive oil, oil a clean and dry work surface (make sure there is enough space for you to leave your dough on) and remove the dough from the bowl.
Knead your dough on the oiled surface for approximately 5 minutes.
Once you have finished kneading your dough, place a damp tea towel or cloth over your dough and leave on your work surface to rise for around 6 hours at room temperature.
Once the 6 hours is up, place your dough into a food processer and add the remaining flour, yeast, oil and half of the remaining water.
Using a dough hook in your food processer, mix these ingredients together.
Dissolve the salt in the last remaining amount of water and slowly add this to the mixture.
Keep mixing the dough for around 7 to 10 minutes, or until the dough becomes stringy and soft in texture.
Now, tip your dough into a well-oiled 1 litre square plastic container and place the lid on top.
Leave the dough in the container to swell. Once the dough has risen ¾ of the way up the sides of the container, tip out the dough onto a half flour/half semolina floured work surface.
Once your dough is on the work surface, half the dough and stretch it out into the shape you would like your ciabatta to look like.
Set your oven to 220 degrees Celsius
Place your two pieces of dough onto a well-floured baking tray of half strong white flour and half semolina flour.
Allow your dough to rest on the well-floured baking tray for another 30 minutes.
Place your dough into the oven and bake for 30 minutes.
There you have it, my very easy way to bake Ciabatta bread.
Hope you have enjoyed my recipe and if you have any questions or suggestions please leave a comment.
Don't forget to share!
Lots of love,
Jennifer