Jennifer's Cakes has just opened its doors to a new concept that will take North London by storm! Have you ever been faced with the dilema of having to choose either a cupcake or an ice cream? Well… now you do not have to choose, you can now have both! Instead of having to worry about serving ice cream at a kids party and all the ice cream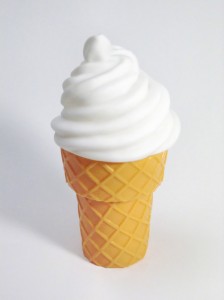 melting every where, well now you can have a cupcake shaped like an ice cream with all the flavours of an ice cream, just none of the mess and worry that the ice cream is going to melt all over their faces, all over their clothes and consequently all over you. These new and ingenious cupcakes are both delicous and extremely fashionable! You can buy a batch and they can be delivered directly to you door. Have a look on our 'price page' and see what flavours are available for both adult and kids parties as well as which areas of London we deliver to.
These cakes  can be made with any of the flavours you can find on our website, the choice is endless but because of this, I have decided to show you how to make Vanilla Ice Cream Cupcakes.
Firstly what is needed to make the vanilla sponge? Follow this link to find what you need to make a vanilla sponge and vanilla butter cream. All you need as an addition to the basic recipe are 12 ice cream cones.
There are some steps that are diffferent ; you do not need to line a baking tray with cupcake holders, you need to line the baking tray with the ice cream cones. Once the batter is ready, spoon the mixture into the cones 1/2 way as this gives the cake ample room to rise. Place the cones in the oven. Follow the rest of the recipe here:
Ingredients and method of the perfect vanilla sponge with a delicious vanilla butter cream icing
Once you have made the butter cream icing and the cakes inside the cones are cool, pipe the butter cream onto the tops of the cakes in the cones, using a 'Mr Whippy' shaped piping nozzle and there you go, you have perfect ice cream looking cupcakes that really are just vanilla cupcakes with vanilla butter cream.
Rememeber to check out the pricing page to see what kind of flavours are available….