Well… Where do I begin?
When writing about cupcakes and cake recipes I seriously believe that you start with the basics. When talking about the basics, the one thing children learn either at school or from their mothers and grandmothers is how t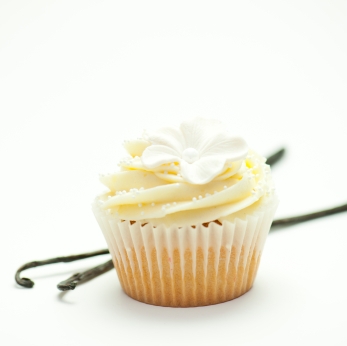 o make a vanilla sponge cupcake or fairy cake (as they used to be called). I have discovered the perfect recipe for vanilla cupcakes. I do not believe in copying other peoples work so I have set out to discover my very own perfectly fluffy and decadent vanilla cupcake recipe. I believe this carefully selected choice of ingredients creates the perfect mix for making deliciously soft, yet tasty treats.
Ingredients;
200g Caster sugar (either brown or white, however brown makes that golden brown appearance and has a different flavour to that of the white caster sugar).
200g Plain Flour
200g Stork Margarine at room temperature
1 1/2 Tsp  Pure vanilla extract
2 Tsp  Baking powder
3 large free range eggs
Method
Set the temperature of the oven to 180 degrees Celsius, then line a muffin or cupcake tray with paper liners. Cream the butter  until you achieve a pale and smooth consistency, this will normally take 3-5 minutes when using an electric mixer. Add the sugar and mix until fully taken up by the butter. Add one egg and beat well until totally mixed in, then repeat with the second egg and then finally the 3rd egg. Add the vanilla extract. Add the baking powder to the plain flour and add to the liquid mixture a 1/3 at a time, mixing until smooth, then repeat for the rest of the flour mixture. Spoon the mixture carefully into the muffin or cupcake holders until they are 2/3 full, this leaves ample room for the mixture to rise whilst baking. The baking time for this recipe is between 18-20 minutes. Once they have turned golden brown in colour. Place a skewer, directly into the centre of the cakes, if the skewer comes out clean, then the cupcakes are ready. Take them out of the oven and let them rest for 10 minutes in the baking tray, then take them out and leave them to cool on a cooling rack. Once they are completely cold, then you can ice them. My suggestion for the icing would be a vanilla butter cream or a lemon butter cream however, as the vanilla sponge is so versatile, it can go with any flavour you fancy. If you can get hold of some rose water and edible rose petals, these can be perfect as gifts for any occasion.
If you would like to learn how to make the butter cream icing please click on the link which says 'butter cream icing' as this will direct you to the page which has all the information you need to create the perfect butter cream icing.
Top Tips:
When mixing all of the ingredients together, try to ensure that as much air gets into the mixture as this is what makes the sponge light and fluffy, even if it takes 5-7mins extra mixing time.
Ensure that you never leave your cupcakes whilst they are baking because there is an extremely fine line between the mixture being perfectly cooked and the mixture burning, so make sure you keep an eye on them.
If you have any questions, feel free to contact me via email at jennifer@jenniferscakes.co.uk or just leave me a comment and I will answer you as soon as I can!
Have fun!