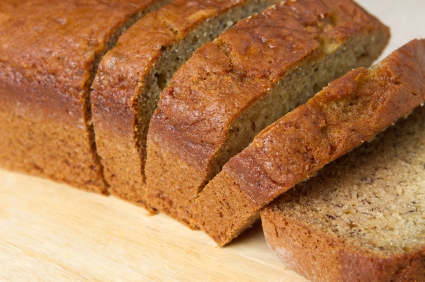 When thinking about cakes and bread, the first thing that comes to mind is… I can't eat that, it is just too fattening. Well, what if I was to tell you that you are completely WRONG!!!
I have discovered a way in which you can have a nice piece of cake, with your cup of tea, and not feel guilty about it afterwards. I have racked the internet to find a way of reducing the amount of fat and sugar in recipes and have discovered a marvelous thing. I know it might sound strange however, 'Apple Sauce' is the perfect addition to any cake or sweet bread. Some of you may think that apple sauce might taint the taste of your baking, however it does not. Apple sauce is the perfect addition to your recipe as it can take the place of butter or margarine, which is the largest source of fat in any baking product. In addition to wondering how the addition of apple sauce would make any difference to your bread or cake, you may also be wondering how you can make this ingenious ingredient. If you would like to know how to make apple sauce, then take a look at my other posts and you will find the key to weight loss when eating so called ' fattening foods'.
Apple sauce not only makes the dessert moist, (which is what butter would usually do) but it also adds a unique sweetness, which is just irresistible.
For my new LOW FAT banana bread you will require;
140g Caster Sugar
200g Plain Flour
2 Tbsp Baking Powder
1 Tbsp Bicarb
5 Extremely Ripe Bananas
2 Egg Whites
5 Tbsp Apple Puree or Apple Sauce (which you can find the recipe in another one of my posts)
1 Tbsp Ground Cinnamon
This recipe does not require any previous knowledge of baking. It is just so easy and simple that my 10 year old cousin can make this in just over an hour.
This banana bread can feed up to 12 people (depending on the portion size) You may feel that this LOW FAT banana bread tastes way to good to serve up to 12 people and feel that it is more suited to feed 7
or  8 people. It is completely up to you.
Method;
Preheat the oven to 180 Degrees Celsius/Gas mark 4, and line either a bread tin with grease proof paper / easy cake release. If you would like to make your servings individual, feel free to line a cupcake tin with paper liners and leave to one side.
Place the flour into a bowl and add the baking powder, bicarb, ground cinnamon and caster sugar. Mix with a spoon and then, one by one add the egg whites, ensuring the ingredients are well mixed before the next egg. Add the apple sauce and set to one side.
Take the extremely ripe bananas and mash up well so that there are no lumps. I like to use the bananas which have been left in the fruit bowl for the last week as no one can bring themselves to eat them as they are soft to the touch and overly bananary. These are the kind of bananas which harness the most flavour. They also add a nice moisture/stickiness to the bread which gives banana bread it delicious and succulent reputation. Once the bananas have been well mashed, add them into the flour mix and stir well until all the ingredients have disappeared, leaving a gorgeous banana goo that you have to restrain yourself from dipping your head into the bowl.
Place the mixture into either the bread tin or into the cupcake tin and place in the oven. You MUST remember that if you are making cupcakes, the cooking time is a little different as there is less surface area than in a bread tin, so ensure that you do not let your cupcakes burn.
If you are using the bread tin, then you will need to let your LOW FAT banana bread bake for up to 50/55 minutes. If you are using the cupcake tin, you will need to leave them in the oven to bake for around 20/25 minutes.
In order to check that you bread or cupcakes are done, insert a skewer into the centre of the bread or cupcakes and if the skewer is clean when you remove it, your bread/cupcakes are ready. If you remove your skewer and the contents of the bread tin/cupcake tin have coated the skewer, then you will need to put them back in the oven IMMEDIATELY.
This is such a simple recipe, however if you have any questions please do not hesitate to contact me either via email to Jennifer@jenniferscakes.co.uk or simply write a comment under this article and I will get back to you as soon as I can.
Happy Baking !!!