When you want to say thank you for something, whether it be; 'thank you for a gift' or a 'thank you for many years of service', I have found that the use of flowers has become futile and that the best way to say thank you for something is with CAKE. Now, when one first thinks of cake, you automatically think of an expensive treat that just doesn't really say 'thank you' as well as a bunch of flowers, however this is no lo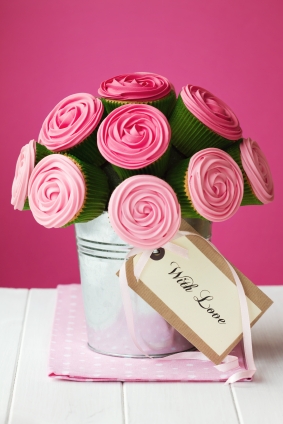 nger the case. At Jennifer's Cakes, we have invented a new way to say thank you, for whatever the reason. There is no better way to express your feelings than presenting a bunch of 'cupcake roses'. Through a trial and error period, we have created the perfect 'thank you' gift. Not only do our cupcake roses show that a large amount of thought has gone into finding the perfect gift, but they are also delicious and can be enjoyed over a period of 2 to 3 days, which is more than a standard bunch of flowers.
Flowers have become so tedious and boring so if you want to give a gift of thanks or just a small token to show the one you love, how much they mean to you, then our bunch of cupcake roses is the perfect gift for any occasion.
Do not get me wrong, flowers are beautiful, but if you would like to do something a little different, then try our cupcake roses in any flavor. Remember, that if you buy a bunch of cupcake roses, then ultimately you will be given one, so keep that in mind before you begin offering up flowers as a token of thanks.
Of course there are so many other choices out there for a thank you gift; however these stunning works of art can be used for any occasions. We have even completed a range of rose cupcake bouquets for a wedding. The main bouquet for the bride was a pale cream/white color, and her bridesmaids walked down the aisle with yellow cupcake bouquets. This is an innovative idea which should be done more often as not only do your bouquets look phenomenal, but they are also extremely tasty treats which should be demolished as soon as the ceremony is finished.
Cupcakes can be in a range of flavors and colors and can be tailor made to suit your needs and requirements, i.e. color scheme. Not only can these delightful bouquets be used at a wedding, they can also be used for centre pieces at a hen or bachelorette party. These amazing innovative creations are perfect for a birthday party or you grandmothers tea party. Whatever the occasion, these cupcake bouquets are perfect to add a touch of beauty and elegance to any surroundings.
If you would like to order a cupcake bouquet in any of the flavors and colors which you can find on our price page, please do not hesitate to give me a call on 07984673033 or drop me an email with all your questions and I will be sure to reply ASAP.
Have a great day!