These traditional flavours of Italian coffee and cream work perfectly in a cupcake. They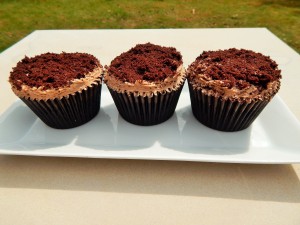 work well as individual desserts as well as a show stopper party piece.
Here is how you make these delicious cupcakes this recipe make 18 cupcakes (12 cupcakes with 6 cupcakes extra for crumbling);
Ingredients for the Cupcakes;
200g Butter (at room temperature)
200g Caster Sugar
140g Plain Flour
60g Cocoa Powder (I like to use over 70% cocoa)
4 Free Range Organic Eggs
1 ½ tsp Pure Vanilla Extract
1 ½ tbsp Instant Italian Coffee Granules
1 ½ tsp Baking Powder
Pinch of Salt
Ingredients for Butter Cream;
175g Mascarpone Cheese
75g Full Fat Cream Cheese
1-2tbsp Marsala Wine
500g Icing Sugar
Cupcake crumbs for decoration
Method;
Set the oven to 180C and line cupcake baking tin with paper cupcake liners.
In a bowl beat your butter until the colour changes from yellow to pale cream, this should take 5 minutes.
Once the colour change occurs, add your caster sugar and beat again.
Now, add your eggs one at a time, mixing well before each addition of egg.
Once all your eggs have been added, add your pure vanilla extract and coffee granules and beat again.
In a separate bowl add the flour, baking powder, salt and cocoa and stir well with a spoon.
Now, add your dry mixture to your wet egg mixture 1/3 at a time.
Once all of the ingredients have been mixed together, spoon your cupcake batter into the paper cupcake liners until they are 2/3 full.
Place your cupcakes in the oven and leave to bake for 20 minutes, or until the cupcakes spring back to the touch.
Once your cupcakes are ready, remove them from the oven and leave them to stand for 5 minutes in their baking tray.
Once the 5 minutes is up, remove them from the baking tin and leave to stand on a wire cooling rack until completely cold.
Now, it is time to make the butter cream icing. In a clean, dry bowl add the mascarpone and the cream cheese and beat until combined.
Now, add in the icing sugar a spoon at a time, DO NOT use an electric mixer otherwise the icing sugar will end up everywhere other than in your butter cream icing.
Once all your icing sugar has been combined with the cheese, add in your Marsala wine and mix well.
Your butter cream icing is ready to be piped onto your cupcakes.
Now, take your extra 6 cupcakes and crumble them into a fine crumb.
Take your iced cupcakes and dip them in cupcake crumbs until well covered.
There you have it my delicious tiramisu cupcakes.
If you have enjoyed this recipe please do not forget to share it!!
Ciao for now!