White Chocolate cupcakes
I Love everything that is to do with chocolate so when I started thinking of how to incorporate my favourite type of chocolate (white chocolate) into a cupcake, I came up with this idea.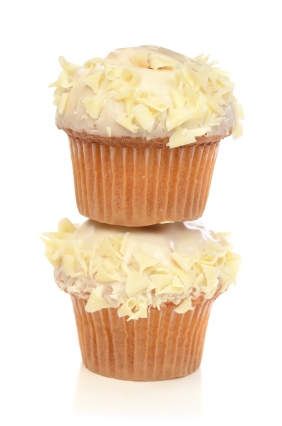 Ingredients;
250g Golden Caster Sugar
250g Butter or low fat spread at room temperature
250g self raising flour
1 ½ tsp pure vanilla extract
3 organic free range eggs
3 tbsp Milk (I like to use semi-skimmed)
1 tsp baking powder
For the frosting you can use a normal vanilla butter cream or you can use a white chocolate frosting but I like to make a cream cheese frosting which is made by the following;
200g Cream cheese (full fat)
150g icing sugar
3 tbsp of double cream
100g white chocolate
Method
Set the oven to 180 Degrees Celsius and line a muffin tin with either muffin or cupcake paper liners, depending on the size you would like your cakes to be. Add the butter to the sugar and mix with an electric whisk until the mixture becomes pale and smooth.  Then, add the eggs one at a time, ensuring that the batter is completely mixed between each addition of egg. Then, add the vanilla to the milk and pour into the butter and sugar mixture. Add the baking powder to the flour and pour into the mixture 1/3 at a time, stirring well with each addition. Continue this step until all of the flour has been used up.
Once you have added all of the components together and the batter is well mixed, carefully spoon the mixture into the paper liners and place in the oven to cook for 15-2o minutes. Do not leave your cakes, as there is an extremely fine line between having perfectly cooked cupcakes and burnt to a crisp cupcakes, so do not take your eyes off them even for a second. Then once the cakes have gone golden brown in colour, insert a skewer into the centre of each cake and if it is clean when you remove it, then you know that the cakes are done. Take them out of the oven and leave them to cool in the tin for 10 minutes. Then, take them out of the muffin tray and leave to cool on a cooling rack until the cakes are completely cool.  Once they are cold, then it's time to make the white chocolate, cream cheese frosting. Melt the chocolate and the cream together either using a ban Marie or a microwave. Mix together well and then leave to one side to cool slightly. Using an electric whisk add the cream cheese and the icing sugar together and blend well. Add the melted cream and chocolate to the cream cheese mixture, ensuring that you leave a little on the side. Once the mixture is ready, dollop a spoonful on the top of each cupcake and drizzle the leftover chocolate and double cream over the top. Once this solidifies, then the cakes are ready to serve!
If you have any questions about this recipe or any other recipes I have on this website, either drop me an email to Jennifer@jenniferscakes.co.uk or leave a comment and I will respond as soon as I can.
Have fun!!