I adore chocolate chip cookie dough so whilst I was making a batch recently for a customer, I decided to see what would happen when you partially bake a vanilla cupcake batter and mix in a lump of cookie dough and then place the back in the oven and you will never believe what I have created! These are the best cupcakes, they have a nice fluffy cupcake batter, but as you bite into it, there is a soft, gooey surprise of cookie dough; this is just divine so here is how I have done it.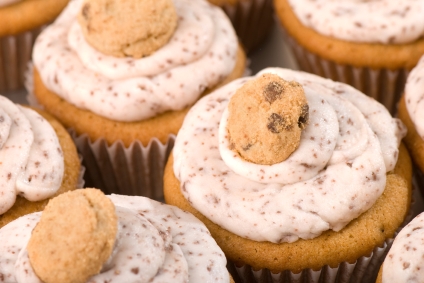 What you need for the cake;
250g Self raising flour for cakes
4 Eggs
220g Caster sugar
2 ½ tsp Baking powder
2 ½ tsp Vanilla extract
8-9 tbsp Semi skimmed milk
3-4 tbsp Corn flour
210g Stork Margarine at room temp
For the cookie dough filling;
12tbsp Stork Margarine at room temp
85g Plain Flour
170g Caster Sugar
50g Golden Caster sugar
2tsp Baking Powder
Pinch of Salt
15g Cocoa Powder (If you want a chocolaty taste to your cookie dough)
2 tsp Vanilla extract
Packet of Milk Chocolate chips
 For the Icing;
500g Icing Sugar
250g Unsalted Butter
2-5tspn Milk
2tsp Vanilla Extract
Cookie to crumble into the butter cream(oreos work best)
Create the Vanilla Sponge part of the cupcake by following the Vanilla cupcake recipe and method by following this link: http://www.jenniferscakes.co.uk/vanilla-cupcakes/
Whilst your cupcakes are baking, you have 15minutes to make the cookie dough part of your cupcakes.
Begin by placing the butter into a bowl and mixing well until it turns a pale glossy colour. This will take between 2-5minutes. Once this stage is complete, add the sugar to the mix and whisk until light and fluffy. Add the vanilla and mix again. Sieve the flour into the butter, sugar and vanilla mixture 1/3 at a time and once you have used up all of the flour, add the baking powder, salt, Cocoa powder and chocolate chips and your cookie dough is done!
At the 15 minute mark, remove the cakes from the oven and carefully scoop out a small amount of the centre of each cupcake, ensure that you do not scoop out too much as this can make your cakes unstable and could end up with a mess on your plate. Once you have scooped out a small amount from the centre of each cupcake, add a teaspoon of the cookie dough and place the cupcakes backing the oven for 5 minutes. This should create the perfect vanilla cupcake with a liquid/gooey chocolate chip cookie dough centre. Take these delicious cakes form the oven and leave in the baking tray to rest for 10 minutes. Then, remove the cupcakes from the baking tray and leave to cool on a wire rack. Whilst they are cooling, now it is time to prepare the vanilla crumble butter cream.
To make the normal vanilla butter cream follow the following link; http://www.jenniferscakes.co.uk/vanilla-cupcakes/ and scroll down to the butter cream section. Once you have created the butter cream, crumble your cookies into the mix and pipe onto your cupcakes. I like to buy miniature cookies and place them on the top of each cupcake; this finishes off the cupcakes perfectly.
There you go! ENJOY!